'Who's ready to give it all?'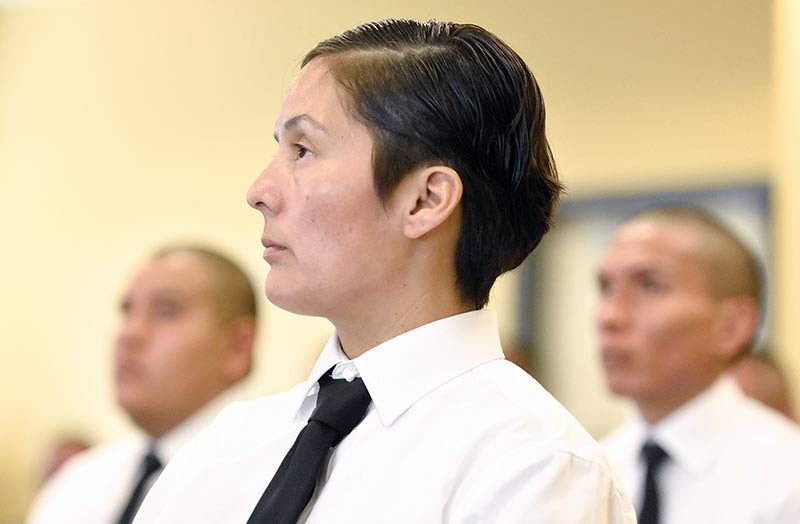 17 police recruits comprise first class since 2011
CHINLE
The temperature outside the Chinle Justice Center hovers at 23 degrees when Navajo Nation Police Academy instructors chase 17 recruits onto the parking lot to begin their first day of training Jan. 16.
It's the beginning of a 22-week course for the young group of nine women and eight men who decided to vie for a chance to become part of the best-trained, very understaffed and greatest Native American police force in the world: the Navajo Nation Police.
The recruits, the first class since the Navajo Law Enforcement Academy in Toyei, Arizona, closed five years ago, stand rigidly with their hands at their sides, staring straight ahead. They are dressed the same — black ties, white dress shirts, black slacks and black light jackets. "Who's ready to give it all?" shouts an instructor. "That day could come!"
"Me, sir!" the recruits yell back in unison.
The three police instructors pace back and forth and around the quiet students, watching closely for any wrong moves or discrepancies in their response to commands. The previous week, the recruits had completed applications and learned basic commands that would help them understand what would be asked of them when training began. The recruits ordered repeatedly to get into formation until one, a female, makes a mistake and turns in the opposite direction – a big mistake. Immediately the instructors shout to get into a pushup position.
They begin doing pushups. Instead of a pushup counting as one, each recruit has to complete three before their instructor tells them they've competed one. They complete 18 before they're ordered to get on their backs and begin doing flutter kicks. "One-two-three, one, one-two-three, two, one-two-three, three," the recruits shout along with the instructor.
"You guys are going to be the faces of the police department," an instructor yells at the flutter-kicking students. "I don't want the weak out there backing me up!" After a while, they're ordered to stop kicking and to keep their feet six inches off the ground. Twenty-three minutes has barely passed into their first official day of training to become the Navajo Nation's finest.
"Payroll, get your feet up and earn that check," yells an instructor to a recruit who mistakenly said he was only there for the work. "You'll probably get that first check and probably take off."
The series of exercises and orders given are designed to teach the recruits to react to commands or a life-threatening situation they may face one day in the real world. To date, 14 Navajo Nation police officers have lost their lives in the line of duty. One of the department's recent losses was Officer Houston Largo, 27, who died of his wounds when he was shot by a domestic violence suspect in Casamero Lake, New Mexico. The suspect, Kirby Cleveland, remains in custody and faces a number of charges, including first-degree murder. Cleveland had already served two years in prison for assaulting a woman with a baseball bat in 2012. A spokesperson for the U.S. Attorney's Office in New Mexico, Elizebeth Martinez, said his trial will not be until June 2019.
After their first one-hour exercise session, Navajo Nation Police Chief Phillip Francisco speaks to the class, known as Class 52, and says theirs was the result of 16 months of "pushing, challenging, begging, and arguing" with his staff to get the recruits hired and in training.
The last class, No. 51, graduated in May 2011. "We have not had our own police academy for six or eight years," Francisco said. "You guys are the first police academy out of the Navajo Nation. "We want to give you the tools so you could do your job, so we don't have anymore deaths," he said, "show you what you need to do and the way we're going to be doing policing."
---