Nez: Nation has 'window of opportunity'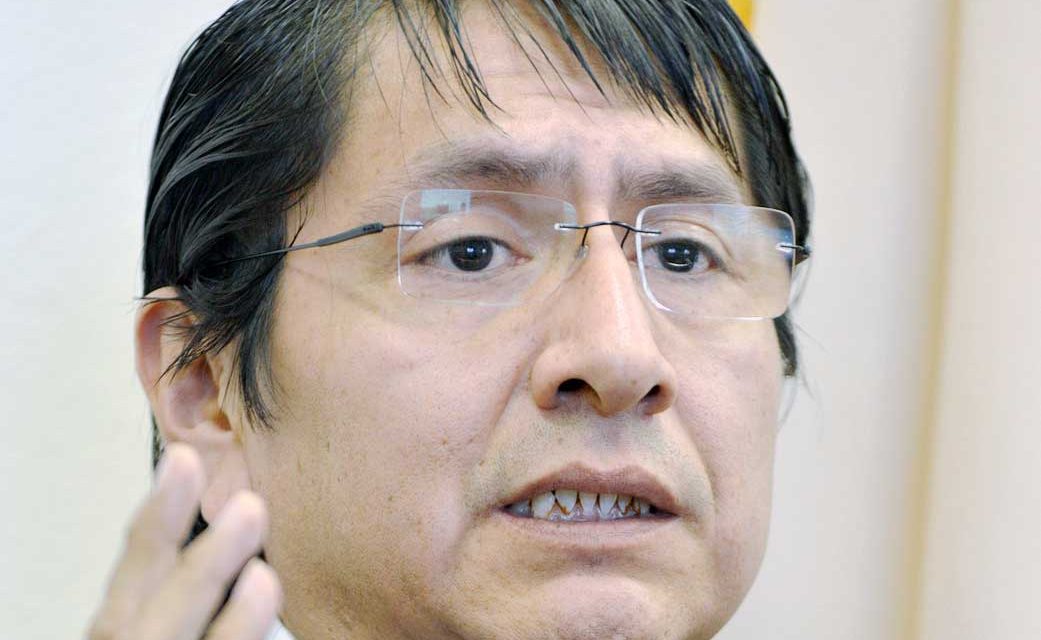 WINDOW ROCK
Jonathan Nez, the three-time Council delegate from Shonto who is running for vice-president on the Russell Begaye ticket, can thank two people for setting the course he is on now.
The first is his grandfather, who died when he was a year old, but H.T. Donald's legacy as a Council delegate for Shonto would give him a strong role model that would guide him in many of his life-making decisions.
"Because of him, I knew when I was young that I wanted to be on the Council," said Nez, who represents Navajo Mountain, Tsah Bii Kin, Shonto and Oljato chapters.
His grandfather was so respected by the community that as Nez was growing up, chapter members would constantly bring him up and Nez found himself interested in not only what his grandfather had done but also anything to do with chapter and tribal politics.
"A lot of people respected my grandfather and so I grew up with his legacy and stories about what he had done," said Nez.
That didn't mean, however, that he went to chapter meetings.
He remembers his parents, John and Mabel Nez, going to the meetings which was alright with him since there was a stream by the chapter house and he and the other kids would play around the chapter house while their parents were inside hashing out the affairs of the chapter.
The second person who had a profound effect on Nez's life came a few years ago.
He was a 12-year-old boy, apparently an admirer, who came up to him and wondered why he didn't practice what he preached.
At that time, Nez's weight was approaching 300 pounds and one of the issues he was promoting was wellness and a healthy lifestyle.
Nez said he took to heart what the boy had told him and on New Year's Day 2012 and began a program to change his lifestyle with a running and biking program.
"I now run four or five miles a day and I have lost some 100 pounds," said Nez.
Born and raised in Shonto, Nez went to school in Kayenta.
His father worked for Navajo Tribal Utility Authority (his mother was a school nurse for the Kayenta Unified School District) and he gives credit to NTUA for funding his college career, first at Northland Pioneer College, where he got an associate of arts degree and then to Northern Arizona University where he majored in political science and got first a bachelor's degree and then a master's degree in public administration.
He decided to go on and get his Ph.D.
but by then, he said, people in his chapter were asking why he needed more education when his father needed his services in the Council.
He was still working on making his boyhood dreams of being a tribal politician a reality, starting off as a planner for his chapter when he was barely 22 and then becoming the chapter's vice-president.
By this time, chapter members were realizing that Nez was not only interested in becoming a politician but that he was willing to work long hours on their behalf.
Eight years ago, Nez ran and won his first term on the Council.
Before he became a Council delegate, Nez learned what it was like to a young educated Navajo who wanted to come to the reservation to use the knowledge he had learned to benefit his people.
Like many young Navajos, he came back to the reservation looking for a job and had the door slammed in his face.
"I looked for a job in Window Rock and Tuba City and was told that I didn't have experience," Nez said, adding that he tried to convince the people who were hiring that he could get the experience if they gave him a chance.
No one did and for many years, Nez had to spend his time getting more education and working for his chapter.
Now that he is on the Council, Nez said he used this and other experiences in his life to advocate for the young people as well as for other segments ofÊthe Navajo population, such as veterans, whom he felt were not getting the benefits they deserved.
As his reputation in the Council grew, so did his workload, to the point where he was selected to be on the powerful Budget and Finance Committee, making decisions that determine how hundreds of millions of dollars in tribal revenues are used.
He still thinks about getting his Ph.D.
but that will have to wait, he said, until he gets off the Council, which will not be for at least four years unless he is elected vice president in April.
Although he is running for vice-president, the timing of this election was such that he was able to win his third term last November, which didn't come as a big surprise since he had no opposition.
Because of this, if he loses in the special election, he will continue serving as a Council delegate until at least 2019.
But in the meantime, he says he is enjoying his life as a Council delegate and his new lifestyle, which has already tweaked a couple of Council mainstays.
One of the traditions of the Council is the annual horseback ride some of the council delegates make each year, spending five days on the road as they trek to Window Rock.
Nez, in a nod to youthful thinking, bypassed the horse and began making the trip on a mountain bike, urging young Navajos to join him for a portion of the ride.
The response has been so great, he said, that last year he did part of the trip as a runner and is now thinking about the possibility of making running and biking a regular portion of future trips to encourage young Navajos to stay in shape.
Now as a candidate for vice-president, he faces another challenge Ñ getting people throughout the reservation to get to know him and trust that he will do everything he can to improve their lives.
People in his district already know what he can do, he said, as well as people in Navajo County where he has served on the board of supervisors for two terms now.
But now his task is to get the people in the other parts of the reservation to get to know him and he's been doing that, going to Thoreau and other communities in the Eastern Navajo Agency to explain that the next four years with Begaye and Nez in charge could be a time of immense change on the reservation.
"We have a window of opportunity right now that we may never have again to bring change to the reservation," he said.
---