Deschene responds to Supreme Court's dismissal of his appeal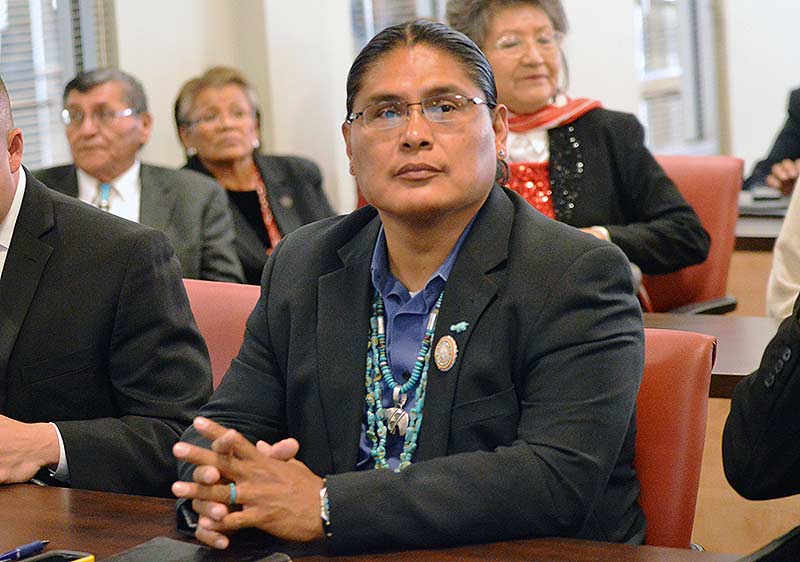 ABOVE: Chris Deschene, who was disqualified by the Office of Hearings and Appeals, waits for arguments to be heard by the Navajo Supreme Court on Monday, Oct. 20, 2014,  at the Navajo Department of Transportation in Tse Bonito, N.M. Despite being disqualified Deschene said voters shouldn't stop voting. (Times photo – Donovan Quintero)
---
WINDOW ROCK
Chris Deschene responded to Supreme Court's dismissal.
"I respect the Supreme Court, but they simply got this one wrong. I want to be your president," Deschene stated on his Facebook page. "I am qualified to be your president. And I remain on the ballot as a presidential candidate.  You must continue to vote.
"We are not surprised by today's ruling, and we assure you, this is not over. Don't quit on me. I will continue to fight for you," Deschene added. "For us. I'm committed to solving the real problems facing our nation. You can help by staying the course and voting. Let's win this."
The Navajo Nation Supreme Court dismissed the embattled Marine Corps vet's appeal on Oct. 21.
Deschene was disqualified by the Office of Hearings and Appeals on Oct. 9.
According to the Order of Dismissal, Deschene failed to turn in all the documents needed in the appeals process, which was required to be turned in on Monday, Oct. 20.
"The clerk of the Supreme Court called Deschene's counsel and left him a telephonic message that the certified copy of the final judgement was not attached," the Order of Dismissal states.
"The court hereby dismisses the appeal for the lack of jurisdiction. The final order disqualifying (Deschene) entered in Oct. 9 is final and enforceable."
After Monday's hearing held at the Navajo Department of Transportation, Deschene said people should not stop voting and that it should be up to the voters to decide.
Stay with us for up-to-date coverage.