New 25th Navajo Nation Council awaits coming challenges as it finds footing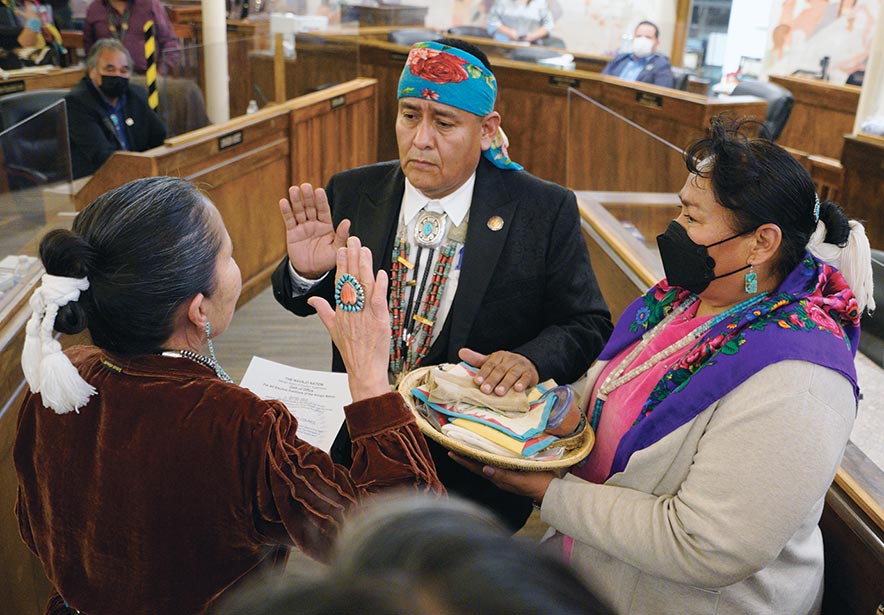 WINDOW ROCK
In front of a filled Council Chamber, which has not been possible since COVID-19 forced the tribal government to close its doors to the Navajo public, Delegate Otto Tso was chosen to be the 25th Navajo Nation Council Speaker Pro Tem.
Tso's appointment is a continuation of his nomination in November. He was elected to be the 24th Navajo Nation Council speaker after Delegate Seth Damon resigned.
The appointment will be for two weeks, or until Jan. 23: on the first day of the winter session, the new Council will elect a speaker who'll represent it for two years.
Tso said Tuesday evening he heard during the Council delegate orientation, which was held at Twin Arrows Casino in November, many of his colleagues were concerned with generating revenue for the tribe.
"A lot of what I heard is revenue generated," Tso said. "How can we make the government efficient? And protection of water rights, protection of other resources that we have, and our laws – those we have to protect. Those are their concerns."
The 25th Council comprises nine women and 15 men, which is not new for the tribal Council. When the Council consisted of 88 delegates, nine Navajo women held seats in the Council, and the difference now is 24 seats make up the current Council.
Tso said it was too early to predict how the new Council members would react to different issues and concerns because the areas they represent have their concerns specific to that region.
"That balance will be there, and each delegate region has a different effect on their different communities, whether it's infrastructure, housing, community development, economic development, and so forth. So, based off of those, the Council will move forth to go ahead and do their priorities," Tso said. "It's really too early to say which direction they're gonna go because the body of the twenty-fifth Navajo Nation Council, right, is made up of nine ladies and fifteen male delegates," he said.
Newly-elected Delegate Shaandiin Parrish, who participated in her first-ever Council session, said her conversations with her newly-elected colleagues are "very excited" to make changes in the next 48 months.
Parrish said working long hours at the Arizona state legislature level. She feels she is prepared to work long hours to get the job of making the Navajo Nation better.
"We would stay there for almost forty-eight hours, so this is nothing new," she said. "In fact, it's probably better we have the midnight rule here. So, maybe I was trained for more stringent work at the Senate."
Parrish anticipates the Navajo people might "feel that breath of fresh air" the new Council brings in the wake of the previous Council, which sputtered out of commission Dec. 29, during a special session when it failed to pass all 32 legislations it gave itself.
Even at the height of a world pandemic, which seemed could have inspired the tribe to unite, instead divided and began conducting itself in secretive committee meetings. The Council fought with former President Jonathan Nez's administration on how to spend billions of dollars of federal government funding.
"I just hope that we pace ourselves and that we're continuing that synergy among us for these entire four years," Parrish said. "We all have a great benefit of great leadership on the Navajo Nation, especially for the Council (which) determines a lot to deal with the expenditures."
---