Nez clarifies position on NGS, renewables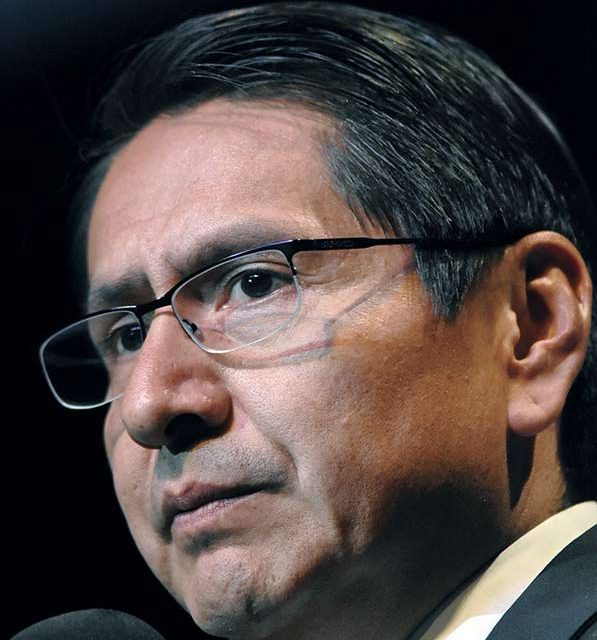 TSÉ BONITO, N.M.
Candidate for president Jonathan Nez said he is in favor of transitioning to a greater reliance on renewable energy, but not at the expense of Navajo jobs. He indicated there has to be a balance between the two.
He supports protecting the Navajo Generating Station workers' job security, but said, "What's not being discussed is how a transition to renewables will work long-term. Even if we got another company to come in to extend the operation of NGS, how long would it stay open?"
The present owners have indicated they will close NGS at the end of 2019 because they are losing money on the coal-fired plant. Negotiations to sell the plant, which along with the Kayenta Coal Mine employs hundreds of people, recently fell through.
Nez is interested in finding solutions and some middle ground.
"We can consider keeping the plant open, but how do we become a leader in renewable energy development at the same time?" he asked.
The bottom line, said Nez, is, "We want to save jobs and we want to create jobs. It's all about the people."
Added Nez, "We need those miners and plant workers to be part of the solution as well, because they know best what's going on."
Nez says a longer phase-out of NGS is reasonable and something he would consider.
"There was a proposition to keep NGS alive for 10 years and I totally support that," said Nez. "Even though there are risks associated with sticking with the coal industry, there is still a lot of coal supply and a high demand, and there are other uses for it."
However, he added that the process for a transition to renewable energy resources needs to be properly and comprehensively planned out by the Navajo Nation.
The problem, he says, arises out of the fact that natural renewables such as harnessed wind and solar on the Navajo Nation do not, as of yet, produce the same amount of jobs, power, or revenue as the coal-fired plants, by a long shot. That doesn't mean that they won't in the future.
Development gap
In meantime, Nez said there is a big gap to fill between the phase-in of renewables and the phase-out of polluting fossil fuels.
Regardless, Nez does not want to see Navajo people suffer economic hardship because of a lack of proper planning or expertise.
---