Prez candidates take 2nd swing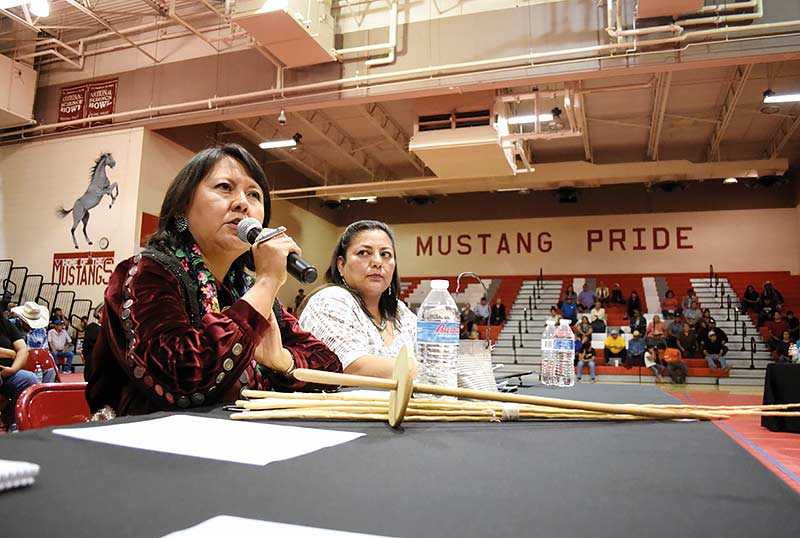 LGBTQ issues come out of the closet at forum
KAYENTA, Ariz.
If you think things haven't changed much on the Navajo Nation in the last 10 or 15 years, you haven't been following the Navajo Nation presidential campaigns.
Thirteen years after the 20th Navajo Nation Council passed the Diné Marriage Act, which banned same-sex marriage right under the prohibition against incest, one candidate at Monday night's presidential candidate forum here charged out of the gate in support of lesbian, gay, bisexual, transgender and queer rights and later challenged his opponents to reveal their stance on same-sex marriage by standing up if they supported it.
Eight candidates — more than half of the 15 who were present at the time — stood up after Nick X. Taylor gave them the ultimatum. For the record, they were Norman Patrick Brown, Alton Joe Shepherd, Trudie Jackson, Vincent Yazzie, Hope MacDonald-Lonetree, Dineh Benally, Calvin Lee Jr. and Tom Tso. Incumbent Russell Begaye had not yet arrived, having given his state of the nation address to the Navajo Nation Council in Window Rock.
Candidate and former vice president Rex Lee Jim missed the forum, as did Kevin Cody for the second time, but the rather sparse crowd was introduced to candidate Benny Bahe, who also missed the first forum. Bahe's platform seemed a bit undeveloped, as he declined to answer questions posed by the six-member panel on economic development and unemployment, saying, "I really don't have the answer to that."
Asked in a Facebook message why he has missed both forums, Kevin Cody responded that he is still in the "listening" phase of his campaign, going around the chapter houses and talking with the grassroots people. "I can answer questions at a forum," he said, "but really I believe my purpose is finding the people that need help so I can share the stories at one of the upcoming forums on how our Navajo Nation government needs to be repaired."
Begaye did show up for the last segment of questions and a closing statement.
---