Prez's vetoes raise time-limit questions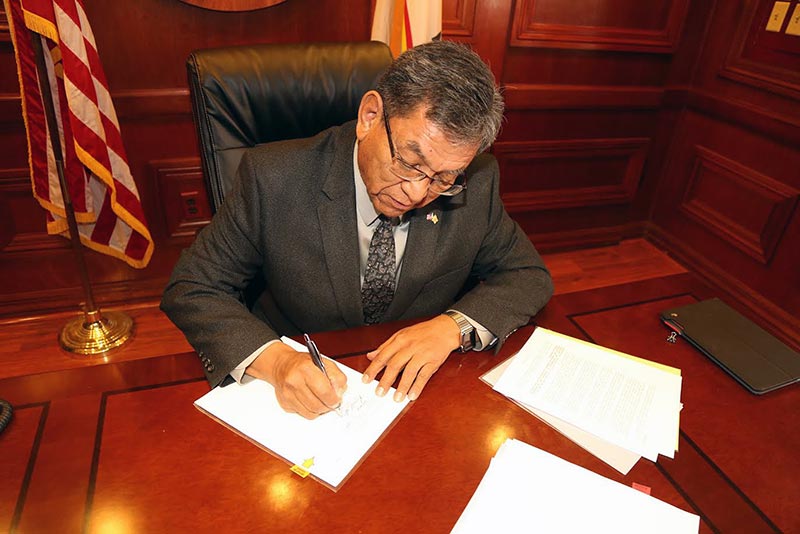 WINDOW ROCK
Navajo Nation President Russell Begaye has exercised his line-item veto by striking 31 items from the 2019 Navajo Nation's $767 million operating budget – but he signed the budget a day later than the 10 days allotted to him by law.
It's unknown if these vetoes are legal given that Begaye waited an extra day to sign the budget. Speaker LoRenzo Bates is aware of the signing date and said a discussion must be held with Begaye.
He said upon reaching out to the president, Bates was told that Begaye was on travel to Alaska causing a hold on rectifying the issue.
"Given the time line, and what we have determined, as we speak, I've reached out to the president, he is in Alaska to my understanding," said Bates. "This makes it difficult to have a sit down."
The Navajo Nation Council voted unanimously to accept the budget Sept. 4, and Bates certified the resolution on Sept. 10, and Begaye had 10 days from Bates' signature to act. Begaye's memo explaining his vetoes was dated Sept. 21 – a day after the 10 days was up.
Delegate Edmund Yazzie referred to another time when Begaye disregarded the law. For the FY 2017 operating budget, Begaye was accused of being in Washington, D.C., when the signed budget was given to the Council. According to Title 2, the president has to sign while he is within the Navajo Nation. Begaye also had used a stamp to place his signature on the budget.
"I only wish that the Council and the president would have gotten together prior to the budget to share what are wants and what is needed out there," said Yazzie. "The law is the law that the president missed it by one day.
"We should go by what the Council had with the first budget," he said. "I'm surprised twice the president has done this, the first time signing with a rubber stamp and not being on the Nation. Where are his advisors?"
Begaye's line-item vetoes include striking out $1.5 million for legislative district assistants and an amendment restricting his office from spending more than 33 percent of the FY2019 budget until the new president and Council are sworn in on Jan. 8, 2019.
…
---