Shepherd concedes after 12-12 tie, Bates becomes new Council speaker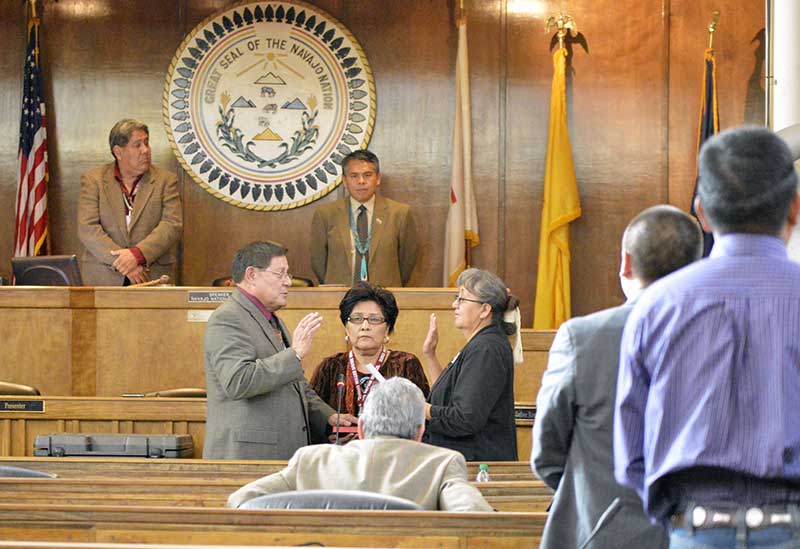 WINDOW ROCK
Compromise and conceding defeat by Council delegate Alton Joe Shepherd named LoRenzo Bates the new speaker of the Navajo Nation Council.
That happened after Shepherd and Bates tied in a run-off election – each with 12 votes apiece – to be speaker of the 23rd Council during the selection process Monday at its winter session.
"If we're going to move forward as a nation, sometimes you need to concede and that's what a leader does," said Shepherd, who was wiping away tears during a short recess before Navajo Nation President Ben Shelly gave his state of the nation address.
The lawmaker from Steamboat, Ariz., who represents the chapters of Jeddito, Cornfields, Ganado, Kinlichee and Steamboat, added that since he's one of the youngest on Council he has "a lot of years ahead of me" as one reason for conceding defeat.
Shepherd, who was nominated by Council delegate Jonathan Hale (Oak Springs/St. Michaels) to be speaker, added that he was afraid of Council being in the same situation it was i
n – divided – when it voted to name Council delegate Kee Allen Begay (Blue Gap-Cottonwood/Low Mountain/Many Farms/Tselani) as speaker pro tem on Jan. 13.
During those deliberations of the speaker pro tem, which followed after taking their oaths of office on Inauguration Day, Council convened in special session to select a speaker pro tem. In those proceedings, there was also a 12-12 tie, but between Bates (Nenahnezad/Newcomb/San Juan/ T'iistoh Sikaad/Tse'Daa'Kaan/Upper Fruitland) and Begay.
Begay and Bates were the top two choices for speaker pro tem Jan. 13.
As a result of the tie and pursuant to tribal law, the Navajo election office administered a coin toss. The coin toss determined Begay as the winner, and since Jan. 13, he was speaker pro tem until Monday.
Which brings the Council to today. As required by tribal law, members of the 23rd Council select a leader that will guide them for the next two years. The speaker, which is basically the CEO of the legislative branch, represents the Council as an ambassador for the Navajo Nation and its people.
From the five nominees that included Council delegates Dwight Witherspoon (Black Mesa/Forest Lake/Hard Rock/Pinon/ Whippoorwill), Walter Phelps (Cameron/ Coalmine Canyon/Leupp/Tolani Lake/Tsidi To ii) and Speaker Pro Tem Begay, Bates and Shepherd emerged as the top two vote getters during the speaker selection process.
Among the 24 votes, Bates received eight, while Shepherd got seven. Begay secured five votes, while both Witherspoon and Phelps won two each.
All five nominees were provided 15-minutes to share that platforms with their peers. In the end, when they were called to vote by the Navajo election office, Bates and Shepherd were in a 12-all tie; hence, Shepherd conceding.
Many of Shepherds' colleagues, including Bates, congratulated him for demonstrating leadership, poise and class for surrendering, allowing Bates to be speaker for the next two years.
"It goes to show the chapter he represents," Council delegate David Filfred (Aneth/Mexican Water/Red Mesa/Teec Nos Pos/Tolikan) said about Shepherd. "He comes from a good family."
Hale added, "I also want to acknowledge the leadership Alton displayed. It's something we will recognize."
---