Council recesses for two days to address N.M. gaming compact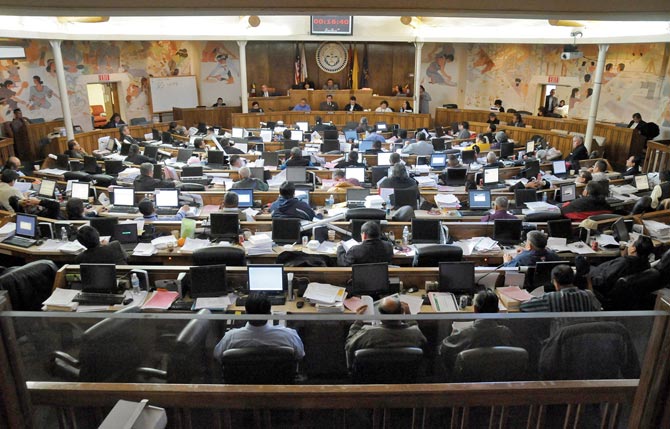 WINDOW ROCK
The immediate attention of the New Mexico Gaming Compact forced the Navajo Nation Council into recess Tuesday.
Council will be in recess until Thursday at 10 a.m. Then, members will act on pieces of legislation that remain on its winter session agenda.
On Tuesday, several members of the Council, including Speaker LoRenzo Bates, traveled by airplane and car to Santa Fe, N.M. to meet with state lawmakers about the tribe's gaming compact it reached with three other New Mexico tribes, nations and pueblos.
"Our compact will expire in June 2015 of this year," Bates said (Nenahnezad/Newcomb/San Juan/ T'iistoh Sikaad/Tse'Daa'Kaan/Upper Fruitland), noting that without an approval the tribe's gaming facilities in New Mexico could close.
Those facilities include Fire Rock Casino, Northern Edge Casino and Water Flow Casino.
Bates added that the trip to Santa Fe is also an opportunity to show state leaders the united front of the 23rd Council.
"We would like this compact approved for many reasons," Bates said, explaining that the newly elected leaders want to be "involved and enthused" on matters like this gaming compact.
Revenue sharing and duration are components of the gaming compact, the speaker said.
The Jicarilla tribe, Mescalero Apache, Pueblo of Acoma and Navajo Nation are the gaming tribes that came up with a single compact being considered by state lawmakers.
Unlike the Navajo compact, which passed the state's house and then failed at the senate last winter, this compact is inclusive and supported by the four gaming tribes.
Bates and the Navajo delegation met with the other gaming tribes last week and asked of them at a minimum, "Do not rush this compact."
Fourteen Council members are scheduled to attend the special meeting with Bates this evening.
One of them is Council Delegate Edmund Yazzie (Church Rock/ Iyanbito/Mariano Lake/Pinedale/Smith Lake/Thoreau). He added that the compact is necessary for the tribe to generate revenue from its three gaming facilities.
"By us showing up there and advocating, the gaming regulation laws should be approved by New Mexico," he said. "We've been working on this for the last several years."
For Council Delegate Jonathan Hale (Oak Springs/St. Michaels), the gaming compact is important since the Navajo Nation Gaming Enterprise is now profiting.
Over the last few years, the enterprise, which oversees the tribe's four casinos, including Twin Arrows Casino Resort, paid back loans that created the facilities.
Now, with the profits coming in, which Hale says is about $5 million, he would like those monies to go directly to all 110 chapters.
"The gaming compact has to go," Hale said. "I would want to see the Nation succeed to get this gaming compact settled."
---