A family affair: Ineligible player gives Horned Frogs chance to win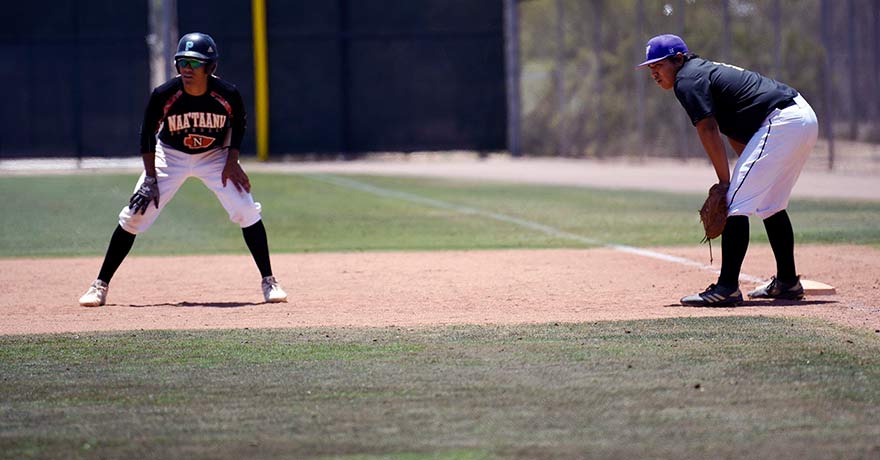 SCOTTSDALE, Ariz.
The Horned Frogs were happy to win the Triple A bracket at the 21st Annual Arizona Diamondbacks Inter-Tribal Youth Baseball Tournament even though they advanced into the championship game on a technicality.
Seconds after losing their semifinal game by one run that took extra innings the Horned Frogs were told that they were going to play Naa'taanii for the tournament title as the Lehi Raiders used an illegal player.
"We were not aware of that," Horned Frogs coach Rashaan Sorrelhorse said of Lehi using a player not listed in the roster they sent to the organizers before the tournament. "We were here to play ball and just have fun."
In the championship game, the Horned Frogs bested Naa'taanii by a 4-0 count at Salt River Fields at Talking Stick on Saturday.
Horned Frogs midfielder Trystan Aspaas said losing that game to Lehi took an emotional toll on his team but once they got word they were going to play in the championship game they wanted to play their hearts out.
"We kind of got down after we lost that (semifinal) game but once we heard about the forfeit we were pumped," said Aspaas, who recently graduated from Kirtland Central High. "We were given a second chance."
Like his pupil, Sorrelhorse believes his team was given a second chance and in hindsight he felt that was the case during the four-day tournament.
"We played in the toughest pool and we had games to where we came from behind but our bats carried us through," he said.
---