Top-seeded Winslow faces defending state champs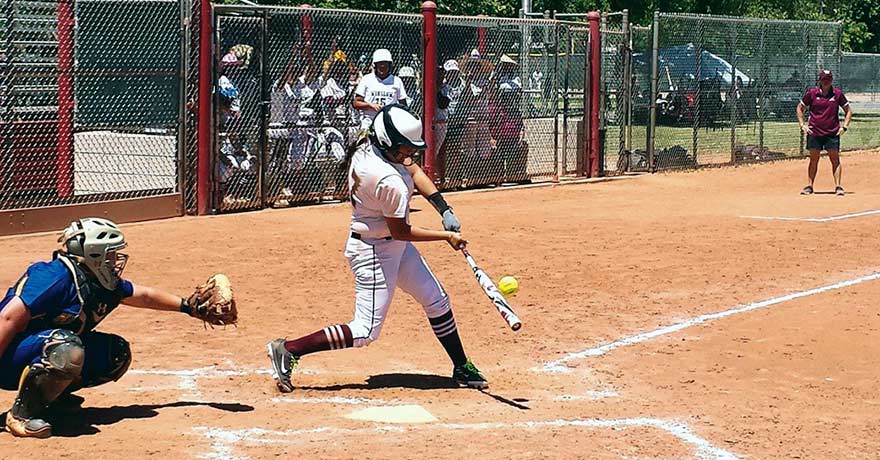 PHOENIX
Winslow shortstop Maycee Rae Cunningham fouled off six pitches as the leadoff hitter for the Lady Bulldogs.
Her will to stay alive set the tone for the rest of Winslow's hitters as they made short work of Kingman in the opening round of the Arizona 3A state playoffs last Saturday at Rose Mofford Park in north Phoenix.
The top-seeded Bulldogs advanced into the second round with an 18-2 win that went five innings.
"That really got the dugout all hyped up and into the game," Winslow starting pitcher Jordyn Johnson said of Cunningham's at-bat. "Everyone was hitting and our bats were just on today."
"We came out strong and we played Bulldog softball," Winslow catcher Brooke Williams said.
Winslow led 6-0 after one inning and they increased that margin to 16-0 at the end of the second. The Bulldogs plated two more runs in the fourth and in the fifth Kingman avoided the shutout with a pair of runs.
"We got people on base right away and we kept hitting away," Winslow coach Kelli Fifelski said. "We moved some people around with some our of small game stuff and then we started hitting away."
With a comfortable margin, Fifelski subbed a few players into the lineup, as a way to get them ready when they are needed during the two-week playoff run, which ends on May 6 with the championship game at the Farrington Softball Stadium on the Arizona State University campus.
"Trust me, we really want to win state this year," Williams said.
Last season they finished second to eventual state champs Sahuarita. The Bulldogs will take on the defending state champions on Friday at 8 p.m. in the state quarterfinals.
"We're 400 times more hungry this year. It's been fueling the fire all year and we want to get back there and this time we want to win it," Johnson said of state. "We now have the chance of playing Sahuarita in the next round. It's a game we're looking forward to."
---