'Beast in the middle': With a 6-9 post, Page dominates on defense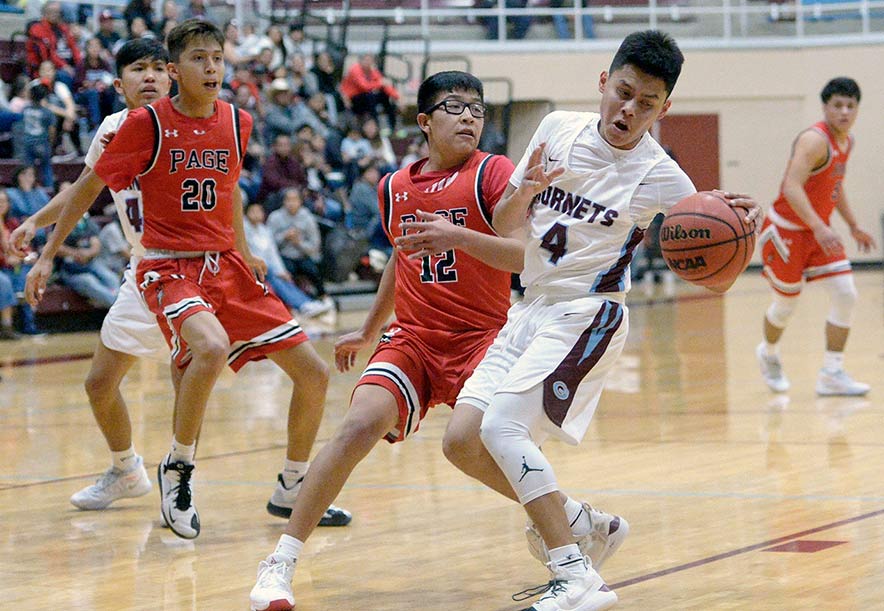 BURNSIDE, Ariz.
A team driven by defense, the Page boys' basketball team has amassed a 17-1 record under first-year coach Justin Smith.
The Sand Devils' lone loss was to Hurricane High School during the championship game of the Lake Powell Holiday Classic in mid-December.
"We can be as good as they want to be," Smith said when asked about how far his team can go. "They just need to keep working hard and keep getting better. There's still a long season left but if they keep working hard I think good things can happen for them."
There is no mistaking Page's dominance in relation to its defensive makeup as the Sand Devils have 6-9 junior post Stuart Sandall controlling the paint.
"Our defense can be scary," Page senior guard Jordan Varner said while hinting that other teams they play are somewhat intimated by them.
"We're a pretty confident team and we all believe in each other," he said. "We're 12 deep and I have faith with every single guy on the team and for us it starts on the defensive end."
Fellow senior guard Gabe Gomez said having Sandall, who sat out last season, makes a real difference. With the addition of Sandall, Gomez said they're more versatile.
"We have a 6-9 beast in the middle and he's a blessing to have in the paint," he said. "With him in the lineup our defense has been top-notch."
Gomez also spoke highly of the guards as they scored all but 24 points in their 71-31 win over Ganado last Saturday night "I think we have the top guards in the region and the state," Gomez said. "We're all tough and when we click we're very hard to beat."
Robert Smith led the Sand Devils as the junior guard tallied 16 points. Sandall added 13 while sophomore guard Maurice Smith chipped in nine.
"I thought we played well, especially early," Justin Smith said. "When we're knocking down threes from all over the place, it opens up the inside for Stu so I thought we looked good early.
"We played good late too," he added. "We still kept playing hard, which is hard to do in a game like that. I felt like we played hard and those younger kids got better."
Junior Lane Uentillie led Ganado with 13 points as the Hornets trailed 27-11 at the end of the opening quarter. Things didn't get any better as Page increased its margin to 50-19 at the break.
"Tonight we came out confused and scared," Ganado coach Julian Chee said.
The first-year coach said his team is going through a lot of growing pains and the biggest thing he's trying to teach is boys is to stop reading too much into what the other teams has.
"We have to start looking at what we can do," he said. "My biggest dilemma is trying to figure out how we can mentally motivate them for the game. We have to stop reading into the hype because when they play their game they can play."
Chee said he's looking for consistency from his team as they dropped to 2-16 overall after Tuesday's loss to Monument Valley.
"I'm trying to get everybody on the same page," he said. "That is what I'm working towards in my first year."
Chee said a state playoff picture is highly unlikely as Ganado has seven games remaining starting with an away game at Many Farms.
The Sand Devils, meanwhile, have emerged as 3A's favorite heading into the homestretch.
"We're No. 1 right now but I keep telling people that doesn't mean anything," he said. "It doesn't even mean anything on February 15 when the final rankings come out because you got to beat teams no matter what you're ranked."
Smith said they have the potential to make a deep run in the state playoffs but thinking and actually doing it are two totally different things.
"We have the talent but there's a lot of good teams in 3A this year," he said. "We'll just have to see how it shakes out in a month."
Smith said they have to get better at everything if they want to contend for a state title.
"We still we got a long way to go before we can be as good as we can be," he said. "We're trying to be as good as we can in February."
With a handful of 3A North Region games yet to be played, Smith is expecting the other teams in the conference to give them their best shot.
"Any one of those teams can beat you on any given night, it's the 3A North," he said. "In this conference, records don't matter so they're all good team. They're all well-coached."
---