Pre-game pep talk propels Tohatchi girls to 54-31 win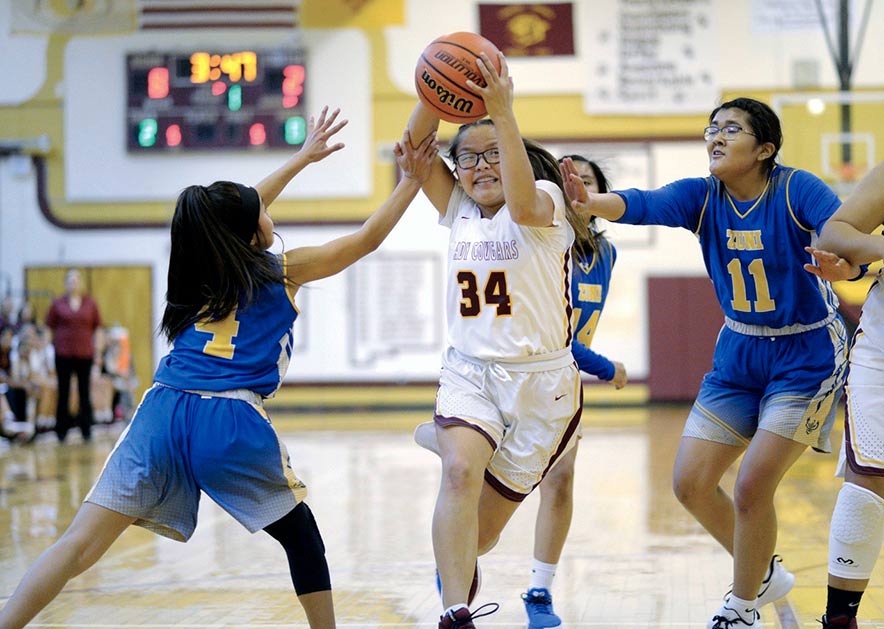 TOHATCHI, N.M. 
Wanting to make sure her team wasn't losing its edge, Tohatchi girls' basketball coach Tanisha Bitsoi gathered her players before the start of Tuesday's district contest with No. 6 Zuni.
She wanted to make sure they were where they needed to be mentally.
The second-ranked Lady Cougars showed they were as they found their comfort zone, cruising to a 54-31 win.
Tohatchi improved to 14-4 overall and 2-0 in District 1-3A play, setting up tonight's contest with Navajo Prep as a must-see matchup between the two top-ranked teams in Class 3A.
"The kids came out focused," Bitsoi said. "They had the energy and urgency to win this district game because on any given night anyone can show up and beat you."
With a senior-loaded team, Bitsoi said they are playing as if every game matters.
"The girls came out doing what they needed to do and we got the results we wanted," she said.
Tohatchi senior Cameron Tsosie said the pep talk they had before the game got them locked in.
"Tonight we were pretty focused," she said. "We basically prepared for this game in the locker room. Mentally, we get ourselves hyped up."
Tohatchi wasted very little time to establish control as it opened the contesting leading 8-0 behind the six points scored by senior Krystal Benally.
After a pair of free throws from Zuni's Tairia Sepo-Owaleon the Cougars ran off 15 of the next 17 points for a 23-4 cushion after a made three-pointer from senior Sicely Miller with six minutes left in the first half.
"I felt that our defense was a big difference," Bitsoi said. "We've been having a lot of breakdowns with it but I felt that our defense was solid. They played disciplined and we're starting to get better with the help-side defense."
For those first 10 minutes, the Cougars pestered Zuni's ball handlers and when they had an opportunity to score Tohatchi contested those attempts.
"We came out flat-footed," said Zuni coach Rhonan Begay, whose team dropped to 13-2 overall and 1-1 in district play. "Our players weren't on the same page; everybody was trying to do their own thing.
"That was frustrating to see because that's not the team ball that we're used to playing," he added. "We just struggled for most of that first half."
To their credit, the T-Birds got somewhat better at solving Tohatchi's defense in the second half with the Cougars outscoring Zuni 20-17 in the final two quarters.
"Basically the game was decided in the first quarter," Begay said. "In the second half we played them closer but in that first quarter they just dominated us."
Junior Kaitlin Romancito, who finished with 13 points, led Zuni. The T-Birds will try to regroup when they travel to Thoreau today for their third district game.
For Tohatchi, junior post Montana Soto came off the bench and scored 12 while Tsosie added 11 and Benally chipped in 10.
As for tonight's big game with top-ranked Navajo Prep, Bitsoi said they're going to have their work cut out for them, but to be successful they need to play within themselves.
"It's being talked about and there is a lot of hype going into that game, but I think for us we just need to worry about us," she said. "We have to stay focused and continue with the same urgency. We need to play like we're the No. 2 team because I believe we're as good as Prep."
---