Earth Memory Compass' leads Diné author home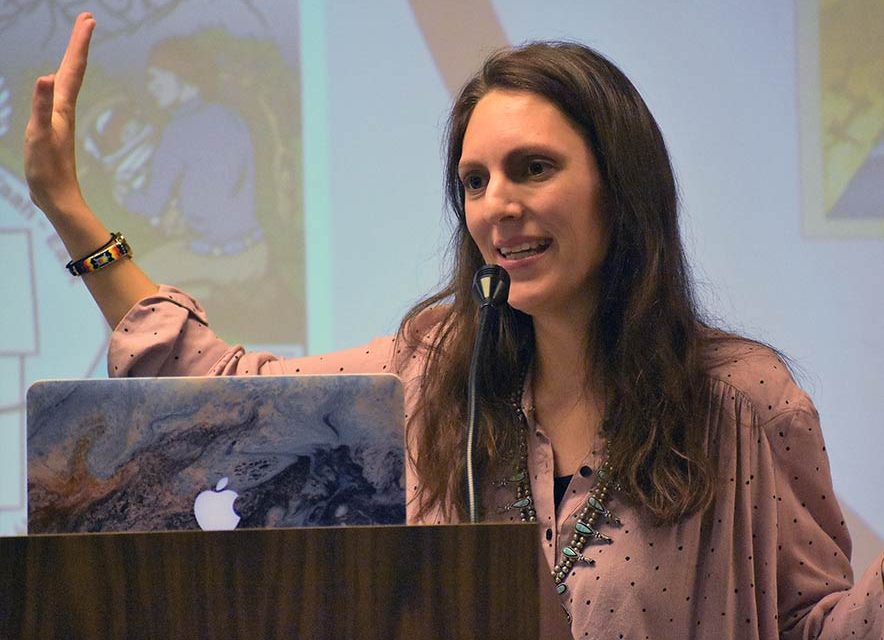 GALLUP
Diné scholar and author Farina King says Dine Bikéyah beckons her home.
"We are Diné because our clans have maintained ties with the lands since time immemorial," she said.
Born in Tuba City, the daughter of Phillip L. Smith and JoAnn Smith lived on the Navajo Nation as a preschooler up until the family moved to the Washington, D.C. area where her father, a physician, worked as an Indian Health Service administrator.
Even though they lived a long way from home, her father preserved the family ties that he cared about deeply, and there were regular visits, reunions and phone calls.
"The sense of the kinship prevailed," she said during a signing event in Gallup Saturday for her book "The Earth Memory Compass: Diné Landscapes and Education in the Twentieth Century."
As King approached adulthood, she developed an insatiable thirst for knowledge when it came to reconnecting with her Navajo roots.
She believes the landscape of Diné Bikéyah between the four sacred mountains is embedded in the memory of every Navajo and reinforced by Diné traditiona
l teachings, thought, and way of life.
Starting with preparation in the east with Sis Naajini (Mount Blanca), activity in the south with Tsoodzil (Mount Taylor), reflection in the west Dook'o'oosłííd (San Francisco Peaks) and conclusion/new beginning in the north with Dibé Nitsaa (Mount Hesperus), King describes how Diné Bikéyah offers a literal and intellectual "map" that defines homeland, heritage, the seasons of life and the four directions, that is uniquely Diné.
"Earth Memory Compass" delves into the trauma of decades of U.S. government-mandated schooling for Navajo students that often disrupted or even shattered their sense of connection to their homeland and identity.
King touches on the foundation of traditional teachings, songs, language and prayers and the loss of those that often went hand in hand with the boarding school era and U.S. assimilation policies. Separation, removal, denominational and distance education often triggered a breakdown of family, community, and intergenerational teaching, disrupting the passing on of knowledge.
"Earth Memory Compass" is compiled into four sections representing the life cycle of these education policies in the framework of the philosophies and spiritual ideas that the sacred mountains, the earth elements, and the four directions hold.
She defines the earth memory compass as embodying Sa'ah Naaghái Bik'eh Hózhóón, the concept of living in beauty, balance and harmony with the natural world and the universe.
"The earth memory compass is a form and embodiment of Diné knowledge and represents the reciprocity between Navajos and their homeland," says King in the introduction to her book.
Even in the face of hardship, tragedy, and loss, however, King expresses that once experienced, the earth memory compass of the Navajo cannot be erased and is foundational to Diné strength and resilience.
'Love for learning'
King says she had a hard time growing up in the east where most people were not familiar with Native American history and culture and could be disrespectful.
"I had to think about how to articulate where I am from," she said.
She began to ask her father questions about his childhood, the family, and Navajo traditions, which sparked her journey of learning.
"That just blew up and piqued my interest and then became my love for learning in general," she said. "I was able to really focus and commit myself and I realized I wanted to share and teach people."
She started reaching out to more of her relatives and elders back home.
"It helped me piece together important parts of our story, and that boarding school was a big part of that," she said. "I saw boarding school as a key part of a rupture."
She asked her dad, "Why don't we know Navajo, Dad? Why didn't you teach us?"
He told King, "You never asked me."
It was in that moment that King realized she hadn't known what questions to ask and she told herself she would never let that happen again.
She says all the while, however, her early childhood experiences of Navajo remained strongly imprinted on her and she began to make connections to the things she was learning.
One of her most important memories as a child was playing outside by the sagebrush and juniper trees and seeing the baby horned toads, she said.
"I knew they were special, and I knew they were my friends," said King. "That memory even from before grade school and that has stayed with me until this day — very vivid and powerful."
King is now an assistant professor of history at Northeastern State University in Oklahoma where she teaches U.S. history through a "Native American lens." She earned her Ph.D. in U.S. History from Arizona State University where she was influenced by other Navajo scholars. She specializes in Native American studies, with a focus on Indigenous experiences of colonial and post-colonial distant education.
King's parents returned to Navajo and now live in Monument Valley, which offers a new home base for the family. King is married with three young children.
Her role as an academician has made it possible for her to approach a path of learning and studying from an objective point of view which she combines with the personal experiences and oral histories of her family, her relations, and their communities. Whether poring through history books, testimony, or national archives with the keenness of a detective, or talking with relatives and elders, King's passion for research and unveiling the past is compelling.
She says her audience is made up of a diverse set of readers, from academic peers to students, historians and relatives of all ages.
King sees herself as someone who can bridge worlds by bringing a unique perspective from "a different angle" through combining her academic training and personal connection to Navajo.
Her goal is to unearth Diné experiences that have been "overlooked and suppressed" so people can learn from them, especially the youth.
In the narrative of "The Earth Map Compass," King is both an observer as a scholar and a participant as a tribal member. The book is a discovery of history, kinship, and homeland, and a discovery of self.
One can't help but be drawn in by King's own sense of wonder when it comes to her Diné heritage and her love for Diné Bikéyah. Her concept of the earth memory compass and the story that unfolds in many ways emerges from her own return home.
Farina King is Bilagáanaa (European-American), born for Kinyaa'áanii (the Towering House Clan). Her maternal grandfather was European-American, and her paternal grandfather was Tsinaajinii (Black-streaked Woods People Clan).
Fans of her work can meet Farina King on March 6, at 4:30 p.m. at the closing reception for the "Returning Home: The Art and Poetry of Intermountain Indian School, 1954-1984" exhibition at the Navajo Nation Museum.
Information: www.farinaking.com
---