Chiefs are older, but inexperienced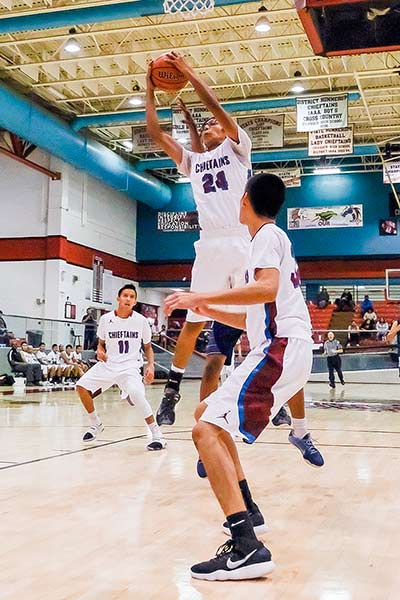 FRUITLAND
The Shiprock High School Chiefs have taken the court and their coach, Chester Atcitty, Jr., likes what he sees, for the most part.
The 2018-2019 New Mexico high school basketball season is in full swing and coaches like Atcitty are gearing up for another long season.
Atcitty said he has a somewhat older, inexperienced team this season, but one that has showed some early promise.
"We're young. I'll have about seven seniors, we just lack experience," he said. "It's starting to come together a bit, but we're hoping with some fine-tuning, we can be better; everybody's in that situation right now just trying to get some fine-tuning in."
Shiprock finished 6-0 in the district last season and with a 19-10 overall record. They ended their season in the quarterfinals, having the No. 7 seed.
In a scrimmage over the weekend, Atcitty said he got to see some of the early character of his team.
He said there was plenty to work with.
"I thought we did a good job, we showed a little bit of resiliency and some fight in us, the tenacity too," Atcitty said.
Shiprock will open up this season this weekend, today, with their annual Chieftains Tournament, when they host Navajo Pine in the opening round at 7:30 p.m.
Kicking the tournament off will be Bloomfield and Durango at 10:30 a.m. Aztec and Navajo Prep have the second game at 1:30 p.m., and Newcomb and Whitehorse have the 4:30 p.m. matchup.
Atcitty said there are sure to be some interesting and competitive matchups.
"I'm not overlooking them (Navajo Pine)…We just can't overlook them, they're capable of beating anybody," he said. "I think it should be a good first round."
Atcitty said all of the teams have something to offer, but he's most looking forward to seeing Newcomb.
He said a solid team like Newcomb, which returned most of its players, could help all teams this early in the season.
"Newcomb, they're probably a more experienced team than a lot of us," he said. "I'm kind of looking at a Shiprock, Newcomb in the next round."
---