Gallup bounces back in win over Miyamura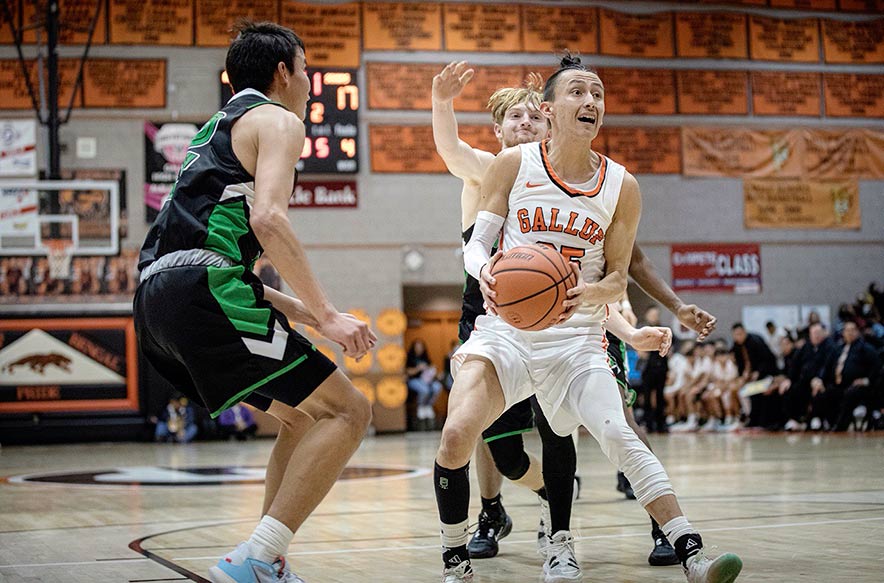 By Santiago Ramos Jr.
Special to the Times
GALLUP
It's the halfway point of the District 1-4A race.
And the Gallup Bengals hit an unexpected bump on the road in search of the district title.
The Bengals bounced back nicely from a stunning district setback at Shiprock Monday night by stomping in-town district rival Miyamura 71-46 Tuesday night.
Shiprock shocked Gallup with a 70-65 district upset at the Chieftain Pit.
"Disappointed with yesterday (Monday) but we bounced back," Bengal head coach Joshua Dunlap said. "We didn't want 1 (loss) turn into 2 (losses). So take one game at a time tonight. Shiprock outhustled us. We're not taking anybody lightly.
"I think these young guys we have to mature and make sure we play with the same effort and energy every game. Cause I've seen us compete with the No. 1 in 4A (Academy)," he added. "We have to play the same every game whether we're playing No. 1 or No. 20. I think once we get matured in that way we'll be more consistent. We need to play all four quarters for the rest of the district."
Had the Bengals taken care of business and defeated the underdog Chieftains, Gallup would be in sole possession of the top spot in the district standings. Gallup had posted easy district conquests over Bloomfield 61-44, Aztec 85-44, Kirtland Central 73-60 and now Miyamura 71-46 but fell to Shiprock 70-65.
Gallup will kick off the second half of the district campaign with a home game against Bloomfield Friday before hosting Shiprock in a rematch next Tuesday night.
In other district action Tuesday, Kirtland Central crushed Shiprock 83-50 while Bloomfield coasted past Aztec 84-64.
Gallup and Kirtland Central are tied for first place in the district standings at 4-1, 14-7 overall. The Bengals will host the Broncos in a crucial district showdown Feb. 14 that may decide the district champion.
Miyamura (6-15) will head up to Kirtland Central Friday before hosting Bloomfield (11-10) Tuesday. Shiprock (7-14) will entertain Aztec (4-17) Friday in district action.
Bloomfield, Miyamura and Shiprock are all tied for third in districts with 2-3 district marks, with Aztec in last place at 1-4.
Looking to shake off the effects of the unexpected district road loss 24 hours early and looking for a quick start, Gallup raced to a commanding 11-2 lead at the outset over Miyamura.
Gallup senior guard Isaiah Tom, who tallied 14 points, nailed the first of three treys and sophomore wing Kristian Touchine came up with a steal and a score and then followed that going coast-to-coast on a fastbreak that gave the home team an 11-2 cushion. But the Patriots battled back to pull to within one point 17-16, after a bucket by senior guard Chris Chavez with 3:32 left in the first half. Chris Chavez, who led the Patriots with 11 points, and Lamont Chavez each buried treys during the Patriot surge.
That would be the closest Miyamura would get.
The Bengals bolted with an impressive 14-4 run to close out the first half to fashion a 31-20 lead.
Up 48-33 after three quarters, Gallup stormed to a 65-44 lead with two minutes left in the game before winning decisively 71-46.
Dunlap said that it was important to come back with a solid effort after losing to Shiprock the night before.
"It was really important cause I didn't want anything to snowball," Dunlap said. "Miyamura, Gallup is always a tough game. People play out of their minds. There was a lot of energy in the building. Just trying to keep the boys calm and just really wanted to execute. That was really the difference between today and yesterday. Yesterday we just played helter-skelter throwing the ball around like crazy. Tonight we ran our stuff. I think we can play harder."
Gallup enjoyed a balanced scoring attack with Touchine leading the way with 17 points, Tom 14 and senior guard Nathaniel Yazzie and junior post Brett Baker each with 13.
The Patriots folded under the Bengal pressure defense and turned the ball over 31 times. The Bengals finished with 19 turnovers.
Gallup also controlled the boards – 39 to 24.
Both teams struggled from the field. Gallup shot 37 percent, 26-of-70 while Miyamura hit 33 percent, 16-of-49.
---