Holbrook girls win top-tier bracket at Chandler Prep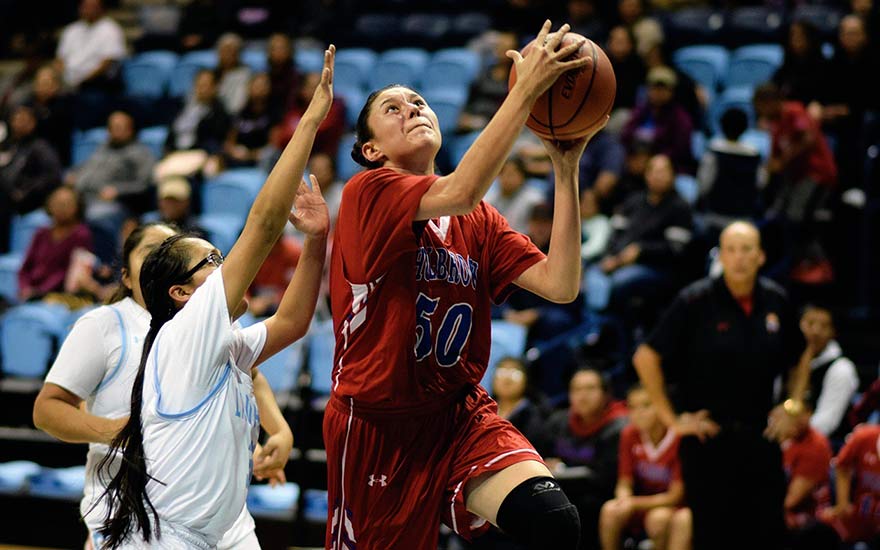 WINDOW ROCK
The Holbrook Lady Roadrunners proved their worth by winning the Diamond bracket at the 80-team Chandler Prep New Year's Classic last week.
Against some of the top teams in the state, Holbrook went 4-0 during the three-day tournament by posting wins over Phoenix St. Mary's, Buckeye, Chinle and Tucson Tanque Verde.
"We lost six seniors off last year's team and we're playing four freshmen so this was good for their confidence," Holbrook coach Greg Perkins said of winning the top-tier bracket of the tournament. "Obviously we saw some areas we need to work on but we also saw some areas of success. It's good that these girls see that success."
Holbrook made quick work of St. Mary's in the opening round with a 58-19 win. Nine of 10 players scored headed by the 12-point effort turned in by junior Madison Chappell, who was tabbed the tournament's MVP.
"Definitely not the same St. Mary's of the old," Perkins said. "We won that rather easily and after that the tournament was really good for us."
In the next round, the Roadrunners battled the Buckeye Lady Hawks in a tight game with the contest going an extra session. Holbrook outscored the 4A Hawks 8-0 in OT to post a 66-58 win with Chappell leading the way with 15 points. Senior Megan Cummings added 14 while Tristen Ambrose and sophomore Matehya Aberle (all-tourney) chipped in a dozen points each.
"They are big physical team and that game went back-and-forth," the Holbrook coach said.
With that win, it gave Holbrook an opportunity to play Chinle for the third time this season. In the first meeting Holbrook won 43-41 in OT before Chinle returned the favor with a 58-57 win.
At the Chandler Prep tournament, Holbrook won 53-44. Aberle led the team with 17 points and freshman Talynn Spencer (all-tourney) chipped in 11.
"We're two pretty balanced teams and this one was close as well," Perkins said. "I think we were down five late in the first half and at halftime we trailed by one. In the second half it went back and forth for a while. Both teams were in foul trouble and we didn't adjust to those calls very well."
---