Hot Springs avenges last year's Holiday Classic loss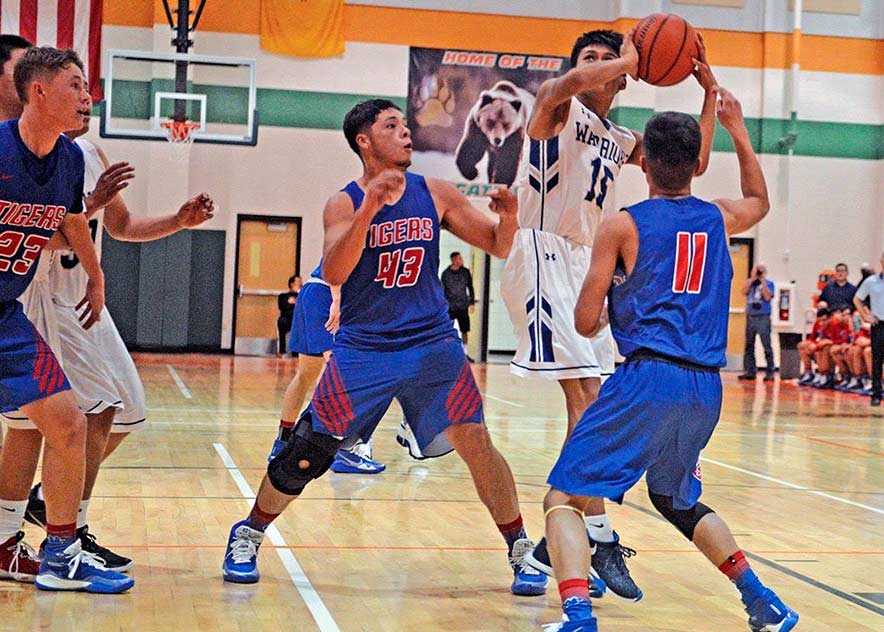 By Michael Peretti
Special to the Navajo Times
FORT WINGATE
The last time Hot Springs was in Wingate playing in the Bears Holiday Classic, they lost to the Wingate in the championship game.
A year later the Tigers returned, winners of 24 of their last 25, including a state championship last year. And on Saturday they captured the title that eluded them last season, defeating Navajo Pine 61-47 in the final game of the Wingate Invitational.
Despite the loss, Navajo Pine head coach Sean Manuelito said he was happy with his team's performance, and that this tournament will help as the season progresses.
"This was a huge success for our program," he said.  "We played against the state champions and went toe to toe with them."
He said the difference in the finals was Hot Springs taking them out of their game plan; taking away the Warriors' inside game, which was successful in the early rounds.
"We couldn't penetrate inside like we usually do," he said.
Hot Springs was led by Verrel Lukman, who finished with 17 points, including hitting 7-of-7 from the line, and scoring seven points in the fourth.
In the fourth, the Tigers were 12-of-15 from the line, as they held onto the lead on their way to the win.
Hot Springs also had Nathan Salcido with 14.
Navajo Pine had Ian Catron and Keishawn Nez both in double digits, both ending with 16.
The Warriors fought all the way to the end, despite the intimidating odds of going up against the defending state champs.
After falling behind early, Navajo Pine tied the game at 14, and kept it close, down just two after one period, 16-14.
The Warriors did not let Hot Springs get too far ahead, and even held the lead 23-22 after a pair of free throws from Catron.
The Tigers kept their composure however, and at the half were back on top, 28-26.
Dominique Clichee hit a pair of free throws with 4:30 left in the third to tie the game again at 31, but the Tigers would score the last 10 points of the period to take a 41-31 lead into the fourth.
From there, the Tigers hit their free throws and ground out the game's final minutes to secure the win and the title.
---