Lady Eagles' Sandoval embraces leadership role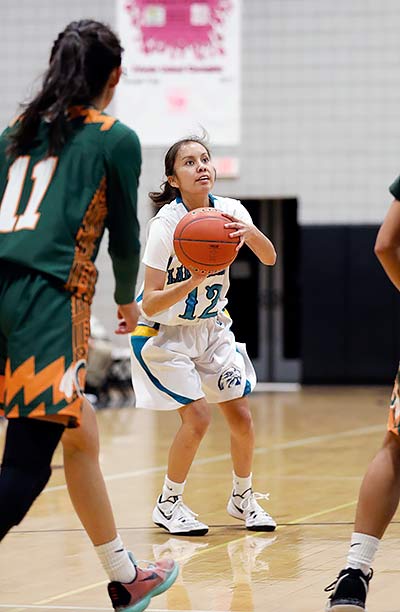 FARMINGTON
When the Navajo Prep Lady Eagles need a little push, lift or dose of encouragement, they look no further than Taina Sandoval.
After four seasons, Sandoval, a senior on the girls' basketball team, has become the team's leader and the person they look to when they need a driving force.
Navajo Prep head coach Rainy Crisp said Sandoval has earned her stripes as a leader and carries out the job well.
"She is my go-to, she's one of my silent leaders," Crisp said. "She doesn't say too much but her work ethic in practice and going hard in practice do. It's just the little things is what she's good at."
Sandoval has worn a Lady Eagle's jersey since she was a freshman. And in the three seasons since, she has earned the stripes of a veteran who the team hopes will lead them to a state title.
She said it has taken her all four seasons to make her the leader the team looks to.
"Being a senior this year, it's learning from the previous years," she said. "You just have to step up and be the leader. Just make sure everyone is accountable and just being a team."
Sandoval not only leads the team by example but in less glamorous ways.
Crisp said she has developed into a very unselfish player, which was demonstrated early this season.
"At the beginning of the season she wasn't shooting a lot. She was more giving up the ball and getting other players open," Crisp said. "She's not a selfish player at all, but at times, I need her to be a little bit and take those shots."
---