Miyamura hold off Scouts in season opener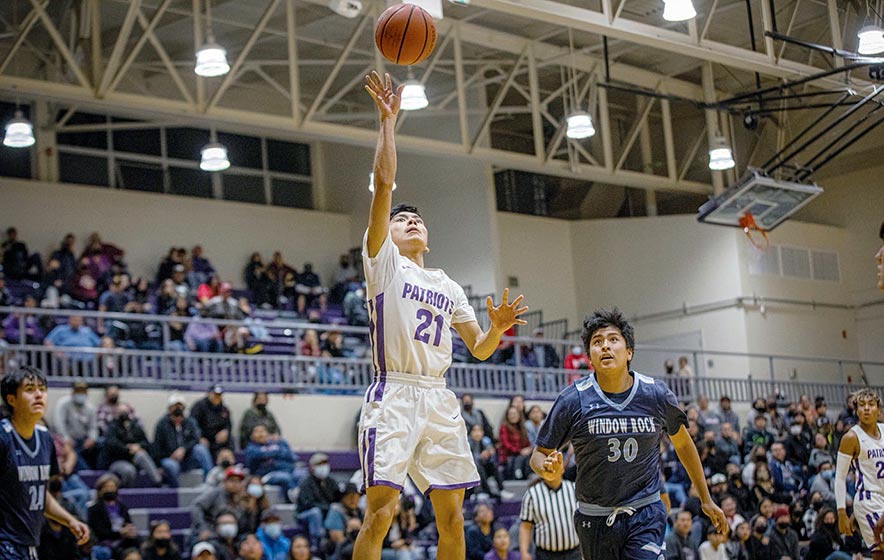 By Santiago Ramos Jr.
Special to the Times
GALLUP
The Miyamura Patriots nearly blew a 19-point lead before holding off the visiting Window Rock Fighting Scouts 59-55 in the final seconds Saturday night in area boys basketball action.
"It was a great win today," Patriot assistant varsity coach Brandon Wyaco said. "Our kids stuck it out. They fought adversity when they got hit in the heart but they never out their chins down, put their heads down. Very proud of the boys."
Wyaco was filling in for first-year Miyamura head coach Robb Floco, who was unable to coach his first game at Miyamura due to prior commitments coaching the Navajo Technical University men's basketball team that was playing in Colorado.
In its season opener, the 1-0 Patriots built what appeared to be a comfortable 19-point advantage early in the third quarter before watching the 0-2 Scouts mount an impressive 13–0 run to pull to within six points, 44-38, early in the final period.
Window Rock's Taylor Begay, who poured in nearly half of his team's total points with a game-high 25 points, accounted for six of the 13 points along with a trey by Jaylen Brown and a basket by Tynn Watchman.
But Miyamura, which had several runs during its season home opener, quickly halted Window Rock's comeback going to the free throw line. There senior point guard Chris Chavez was a perfect 4-for-4 in two trips to the line giving the Patriots some breathing room, 48-38.
The Scouts drew to within three points, 55-52, with 1:16 left in the game with a 10-3 spurt as the Patriots struggled from the field, failing to hit on 11 field goal attempts.
But Miyamura was able to stem the scoreless drought by marching to the charity stripe in the final minute.
Miyamura senior guard Lamont Chavez, who finished with 10 points, sank a pair of free throws with just over a minute left. However, Begay scored on a lob pass underneath that cut it to 57-54 with 42 seconds left.
With the ball and the lead, Miyamura was able to run off 25 seconds before Window Rock was able to foul. Patriot senior forward Dionte Gilbert, who tallied a team-high 15 points, made 1 of 2 free throws. Begay was then fouled, sending the Scout senior to the line. He converted both free throws with 13.9 seconds remaining to make it a 3-point game again. With time running out, Chavez was fouled and sealed Miyamura's first win of the season with another free throw.
"That was big," Wyaco said of the clutch free throw shooting, "We practice our free throws every day."
Wyaco said he was proud of his team for holding on for a close win.
"Our kids stuck it through," he said. "We never got out of our offense. We just kept on running through. We trusted ourselves and that's what a team is about. It's a new year for Miyamura and we're building a new foundation. So they were able to add another layer to the foundation of fighting adversity. We're always hit with adversities. But we're proud of how the boys stood up to when they got hit in the gut, they didn't give up."
Window Rock head coach Gilbert Clauschee said he instructed his players to pressure the ball in the final minute.
"The strategy was to create a turnover or a steal in the final minute of the game," Clauschee explained. "We just didn't pressure the ball enough. I've been in these situations enough times to try and get the ball back without fouling. Players were instructed to foul with 25 seconds remaining."
Wyaco said that he expected Window Rock to pressure the ball handler and foul quickly in the final minute.
"I was surprised that Window Rock didn't foul sooner. We just told our boys to hang tight and play good D. No fouls."
Clauschee said that he has a young ball club with just one varsity player back from last year's team.
"We're young as far as experience goes," he said. "In our first game against Page we were rattled by pressure. We missed a lot of good looks and we missed a ton of free throws. We're new at playing man-to-man it's a learning process as we go. The athletes are responding to a new system and will improve with each game. The most impressive part of the game was the heart the boys showed by working hard on defense and getting us back into the game. They didn't quit and fought to the end."
Clauschee, who returned back to Window Rock this season after an earlier six-year stint, said he wanted his team to match Miyamura's intensity from the outset.
"I told my guys we had to match Miyamura's intensity at the start. We were a little over-aggressive and gave up a few fouls early. Defense was a little shaky in the fourth quarter as we made stops that got us back into the game. We had a lot of good looks but we couldn't knock them down and struggled mightily at the charity stripe."
Miyamura led by 10 points, 33-23, at the half thanks to Britt Mitchel who tallied 10 of his 12 points in the first half that included a pair of treys.
For the game the Patriots sank 19-of-35 free throws while the Fighting Scouts were 14-for-32.
Window Rock outshot Miyamura from the field, hitting 19-of-44 for 43 percent while Miyamura finished 17-of-60 from the field that was fueled by going 0-for-11 in the fourth quarter. However the Patriots countered burying 6-of-21 treys while the Scouts were just 2-for-13 from long range.
Miyamura will play at Del Norte today.
Window Rock will be off until next week when they host Rehoboth Christian on Dec. 10 with tipoff scheduled for 1:30 p.m.
---