Tohatchi opens season with ugly win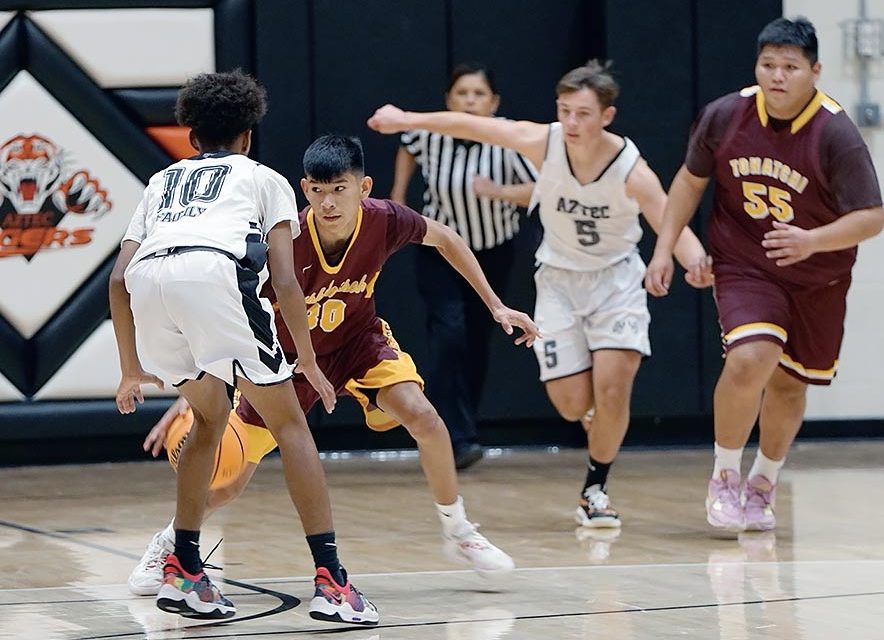 AZTEC, N.M.
It didn't look pretty, but the Tohatchi boys basketball team started the season on a winning note.
The Cougars trailed by as much as six points in the fourth quarter before prevailing with a 62-59 win over Aztec last Saturday night.
"It's the first game of the season and there were things that we didn't do," seventh-year Tohatchi coach Jim Smith said. "We missed a lot of free throws and we didn't box out, so all I can say is we gutted this one out."
The Cougars used 12-2 run to take a 56-52 with under four minutes left as they scored on six straight possessions with junior post Talon Long scoring six of his team-high 19 points.
Aztec got within 58-55 with under two minutes left and they closed that gap down to 60-59 after a basket by Quintin Secatero with 30.2 seconds.
Following a timeout by Tohatchi, sophomore Josh Dawes iced the game with a pair at charity line.
"Our bench stepped up big time," Smith said. "We made a little run with our bench. They stepped up and pulled us out of there because it was a dog fight to the very end."
Aztec coach Ryan Dee acknowledged that his team had their chances, especially late when they turned Tohatchi over two times with under a minute left.
"We dug ourselves in a hole, but we were right there with them," he said. "We had our chances."
The third-year Aztec coach said he was missing three starters, as his team battled adversity.
"We had other guys step up," he said. "We had guys that filled in for the players that we were missing."
As a Diné coach, Dee said he's trying to build a culture that's based on k'é with his Aztec team.
"My philosophy is based on faith, respect, trust, love and forgiveness," he said. "You know, building relationships with each other, building relationships with the game and with school.
"I want to build that unity, and that family concept with this team," he said. "I always believe that it's not the best five players on the team that is out there, but it's the best five players that work together."
Dee said the three-point loss stings, but he's happy with the way they competed.
"It hurts because we wanted to come out on top," he said. "But compared to where we were at when I started three years ago we've come a long way."
He said his team is on schedule with what he's planned and he expects his Tigers to compete for a district title this year.
"Realistically, we want to be the district champs," he said. "If we can compete like the way we did tonight with three starters out, I think we have a chance.
"We know that we can compete with teams like Kirtland," he added. "If we continue to work hard, things are going to come our way."
The Tigers had three players in double figures headed by the 19 points turned in by senior Jedidiah Jones, who hit 9-of-14 free throws.
Aztec also got 18 points form Jaden Sims and 11 from Secatero as the latter two players moved up from last season's JV squad.
"They're buying into my system," Dee said. "When I first started they were freshmen. They went and saw the process that we've been through to get where we're at right now."
For Tohatchi, the Cougars were led by Long's 19 points. Senior Hayden Yazzie added 10 while junior Kyle Yazzie and sophomore Josh Dawes added eight apiece.
The four starters accounted for 45 of Tohatchi's points.
Both teams will be action today with Aztec playing in the Montezuma-Cortez Invite while Tohatchi is entered in the Rehoboth Christian tournament.
Aztec plays the host team at 7 p.m. tonight and the Cougars start with Albuquerque Evangel Christian at 1 p.m.
"We got a lot of games scheduled and we just need more practice time," Jim said. "We have two practices (this) week and (next week) we'll have three.
"That's the biggest thing, but we'll gain more game time experience," he added. "Hopefully, we'll find our identity by the end of December before we head into district."
---