Packed house spurs Gallup to tournament title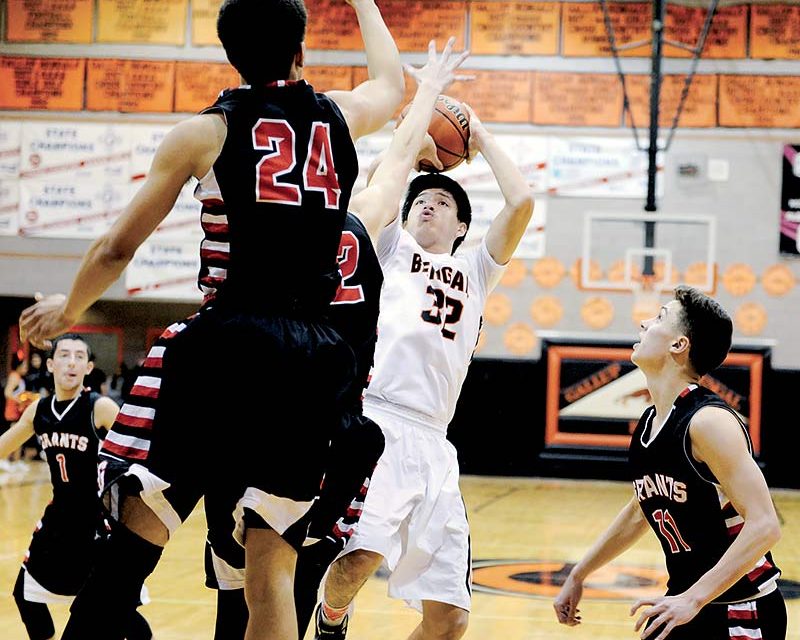 GALLUP
Hundreds of Bengals fans lived up to their mascot's ferocity when they roared in support for the boys' basketball team on Saturday night.
With a sold-out crowd, the Gallup Bengals prevailed over the then top-ranked Grants Pirates in an exhilarating 78-72 overtime victory to become the champions of the 72nd annual Gallup High School Invitational Basketball Tournament.
The Bengals finished off the Pirates in the overtime session, with senior Colton Lowley scoring six of his 20 points, which included four key free throws.
Lowley, the tournament MVP said the overtime session "felt like it was a new game and it came (down) to who wanted it more."
Lowley would not have reached his total point production if it were not for teammate Patrick Chee's game tying three. Chee hit the clutch bucket from the baseline corner with three seconds left in regulation.
Prior to his shot, the Bengals had 12 seconds to play after Matthew Vail Jr., gave Grants a 70-67 lead off two foul shots.
Gallup athletic director James Malcom said, "We could not have asked for a better finish."
The exciting finish was set into action with an already electric atmosphere before the tip-off. Many of the fans braved the freezing temperatures last Saturday night, forming a long line outside the front entrance of Gallup High School.
Once they got inside, the temperature immediately spiked from the body heat of the hundreds of Bengal fans sitting anxiously in the stands.
With a sizable crowd in favor of the home team, Gallup guard Patrick Chee credited the crowd for boosting their momentum.
"We have the best fans in the state," he quipped.
---