Page girls take over 3A North driver's seat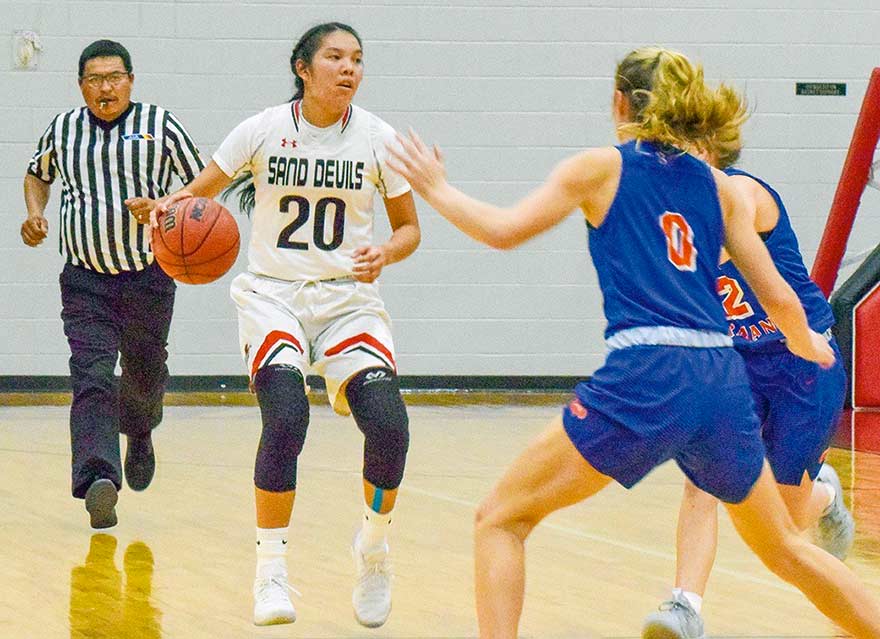 WINDOW ROCK
Page girls basketball coach Ryan Whitehorse says it's too soon to start praising what they've done in the conference race.
On Tuesday night the Lady Sand Devils took over the driver's seat in the 3A North by outlasting Chinle by a 42-38 count as the defending state champs improved to 14-4 overall and 4-0 in league play.
Tuba City is firmly holding down the No. 2 spot with a 4-1 conference record, followed by Chinle (3-3), Ganado (2-3), Window Rock (1-2) and Monument Valley (0-5).
"It's good to be where we're at but we're about halfway through our region schedule," he said. "In this conference it's easy to drop five games in a row so we haven't really accomplished anything yet. It's still going to be a battle when we have to play each team again."
On Saturday, the Sand Devils will complete the first half of the conference season by making a trip to the nation's capital by playing Window Rock.
And while they still have six conference games left before the 3A North Region tournament, Whitehorse said he's pleased with how his team has been playing as of late.
"We're finally clicking, and we're finally getting more experience under our belts," he said. "The girls are stepping up to their roles. Right now we have a good rotation that seems to be working for us."
In Tuesday's win, Whitehorse said both squads came ready to play as neither team gained more than a one-point advantage in the first three quarters of play.
In the opening stanza, Chinle led 16-15 and with both teams scoring nine markers apiece in the second the Lady Wildcats took a 25-24 edge at the break.
In the third, Page outscored Chinle 11 to 9 as they gained a 35-34 advantage heading into the fourth.
"It went back and forth," Whitehorse said. "It was a good defensive battle on both sides. They made a couple of runs and then we'd come back and have our little run."
---