Rehoboth overcomes late turnovers in win over To'Hajiilee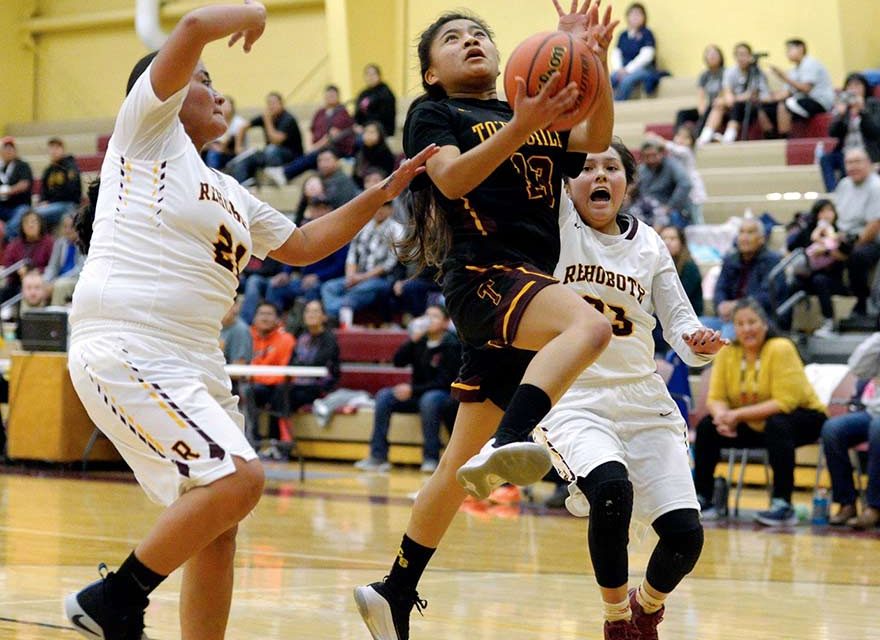 REHOBOTH, N.M.
With a precarious three-point advantage, the Rehoboth girls' basketball team tried to milk some time off the clock last Friday night.
The Lady Lynx got a huge three-pointer from senior guard Jayme Daniels with 2:37 remaining but after securing possession of the ball they coughed it right back to To'Hajiilee — three times.
Despite turning over the ball the Lynx opened the season with a 45-40 win over To'Hajiilee.
"We got some turnovers and deflections but offensively we have to work on our execute a little better," Rehoboth coach Adrian Pete said. "We need to make better decisions and even though we tried to stall we made some bad passes and they got the ball back."
In those final minutes, Pete said his girls started to overthink things as they gave To'Hajiilee opportunities.
"They started hesitating," he said. "They were thinking about where to pass the ball."
The Rehoboth coach said To'Hajiilee came ready to play behind the play of senior post Autumn Harrison, who finished with a team-high 13 points.
"It was good game for us," Pete said. "To'Hajiilee came in and played. They surprised me. Harrison is there still and she puts the ball in basket for them."
Despite coming up short, first-year To'Hajiilee coach Darren Hudson liked what he saw as his team is still adapting to his coaching philosophy.
"I'm bringing in new ideas to the offense and defense so they're getting used to (it)," he said. "Once they get used to it they should be more competitive. We have little flaws that we got to work on and we need to be able to come together as a team, as a whole. Once we do that, we're ready to go."
With it being the first game of the season both coaches agreed there were some early jitters as neither team found a rhythm in the opening quarter. The score was knotted at 6-all with Rehoboth getting a pair of treys from senior Wylencia Weaver.
The pace of the game picked up somewhat in the second with Harrison helping the Lady Warriors to a 17-15 halftime cushion.
A seven-point outburst from junior guard Brenneih Nelson (11 points) helped To'Hajiilee to a 28-24 lead but the Lynx finished out the last three minutes of the third on a 7-2 run for a 31-30 edge.
---