Rock Point boys' coach wants team to match girls' accomplishment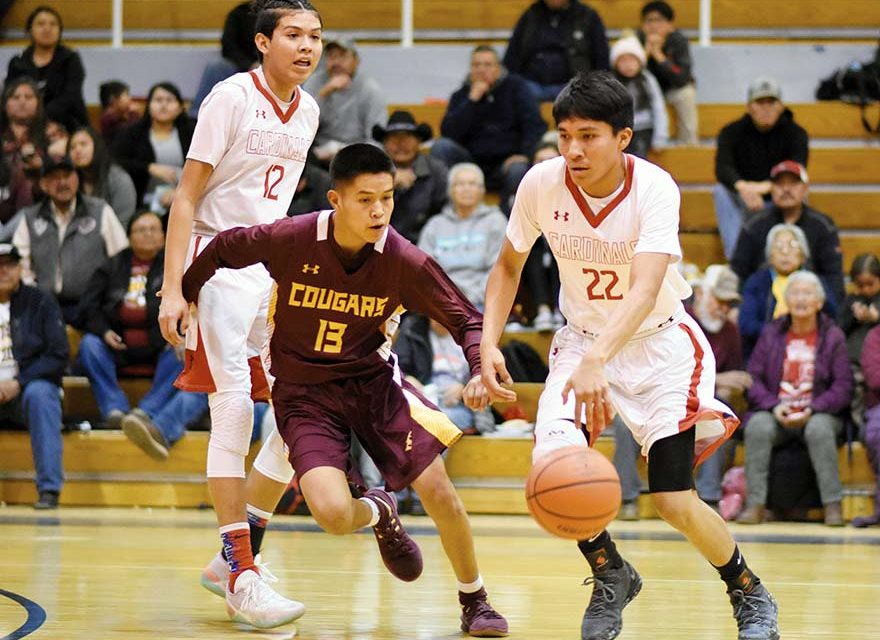 FORT DEFIANCE
Having coached the girls' basketball team to a state title game, longtime Rock Point coach Melvin Arthur wants to do the same for the boys' program.
Arthur coached the Lady Cougars to the 2008 1A championship game. His boys' squad has a good chance of making this year's final as they enter the final week of the regular season as the top-ranked team with a 15-4 overall record, which includes a 7-0 mark in 1A North play.
"We're on track to do that," said Arthur following their 67-43 win over St. Michael on Jan. 25. "The boys are starting to believe in themselves and they are believing in the program. They are continuing to work hard every day and I believe we'll be able to play in the state championship game.
"I really want to do this for the boys," he said. "It's my goal to get them there."
Last Friday, Rock Point played like the top-ranked team by opening up a 14-0 lead over the Cardinals. The Cougars forced five early turnovers and that led to easy transition layups for the visiting team.
"We came out with a lot of energy," Rock Point forward Eronimo Hummingbird said. "We sort of went in a slump midseason and we're starting to pick it up. We're starting to pick up that mentality of being the No. 1 ranked team and we want that momentum to carry over to the state playoffs."
Junior forward Adrian Johnson and sophomore guard Johnston Begay were the earlier beneficiaries of that superb start with Johnson making three layups and Begay adding five points.
The Cardinals finally got on board when AJ Rossman hit a trey with 4:29 to go.
"We fell behind early and it wasn't because we were scared," St. Michael coach Michael Warren said. "With the early deficit I think the boys felt like they had to hurry things up. After we sort of calmed down we started to play our game."
---