Rock Point hits in 2nd half to stay unbeaten in 1A North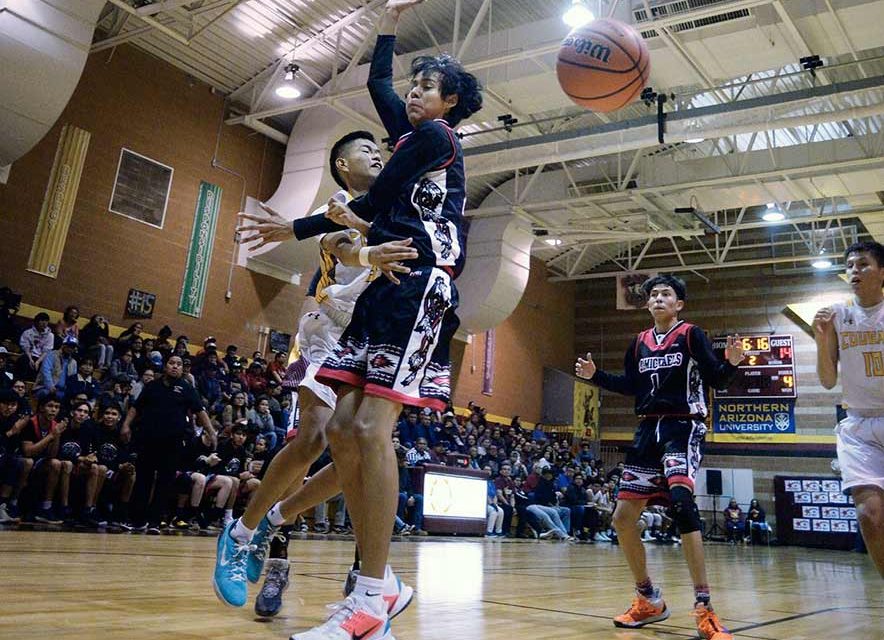 ROCK POINT, Ariz.
The third-ranked Rock Point Cougars were a little shaky in the opening half, missing countless baskets near the rim.
Things took a dramatic turn when play resume after the break as the Cougars defeated 1A North foe St. Michael 51-40 on Monday night to improve to 19-5 overall and 8-0 in conference play.
"Those are shots that our guys normally make," Rock Point coach Erick Johnson said of those missed opportunities.
"I wished we made them early but we couldn't get them to fall," he said.
Trailing 19-18 at the break, the Cougars scored four straight baskets to start the third much to the delight of their head coach.
"I told them that we had to attack the basket from the baseline," Johnson said. "And when (St. Michael) collapsed on us we dished it off."
Senior guard Ral'shaun Descheny was one of the beneficiaries of that scheme as he scored 12 of his game-best 19 points in the second half. Fellow senior Adrian Johnson added 11 while junior Johnston Begay tallied all of his eight points in the second half.
"We started out slow but once we were able to hit our shots we got going," the Rock Point coach said.
Defensively, the Cougars instituted a triangle-and-two defense at the start of the second half, shadowing Ajay Rossman and Landon Anderson, the Cardinals' biggest threat.
"We wanted to cover their top shooters," Johnson said.
That tactic worked as both guards finished with 10 points in the second half with six coming late.
"They hit some big shots and they adjusted to Ajay and Landon," St. Michael coach Joshua Thompson said. "They went man on us and they forced the other guys to make things happen so we were caught off guard but they (Rock Point) made some big shots and they pulled away."
Behind Anderson's six points in the opening quarter, the Cardinals got off to a rousing start as they led 12-8.
A basket by Rossman extended that margin to six at the start of the second but neither team was able to get anything going as Rock Point closed within a point heading into the locker room.
Going into this weekend's 1A North tournament, Rock Point is the only team undefeated in the Arizona Interscholastic Association standings as the AIA doesn't count regular season tournaments or out of state games in its ledger.
"That's where we're at but I wish we played some tougher teams from the south," Johnson said. "It is what it is."
With Red Valley Cove dropping its boys' basketball program this past season, Johnson said it left a void on their schedule and he was able to fill that with Flagstaff BASIS and Monument Valley, Utah.
"I was hoping that we could schedule a 2A or a 3A school," he said.
With an undefeated record, Johnson said rest of the teams in the 1A North are going to be gunning for them.
"I told the boys they're going after us," he said. "They're going to try and slow us down but we need to fight through that."
As the tournament's top seed, Rock Point will play Red Mesa at 1 p.m. on Saturday at the Fieldhouse in Fort Defiance with the winner advancing to the championship game.
On the opposite side of the bracket, St. Michael will take on No. 2 seed El Capitan 4 p.m.
Thompson said his club has to get by El Capitan to make the state tournament.
"We split with them but I believe my guys can get it done," he said. "We just have to take it game by game. I'm just trying to get that belief and confidence in them."
---