Everyone had competition at Central Bee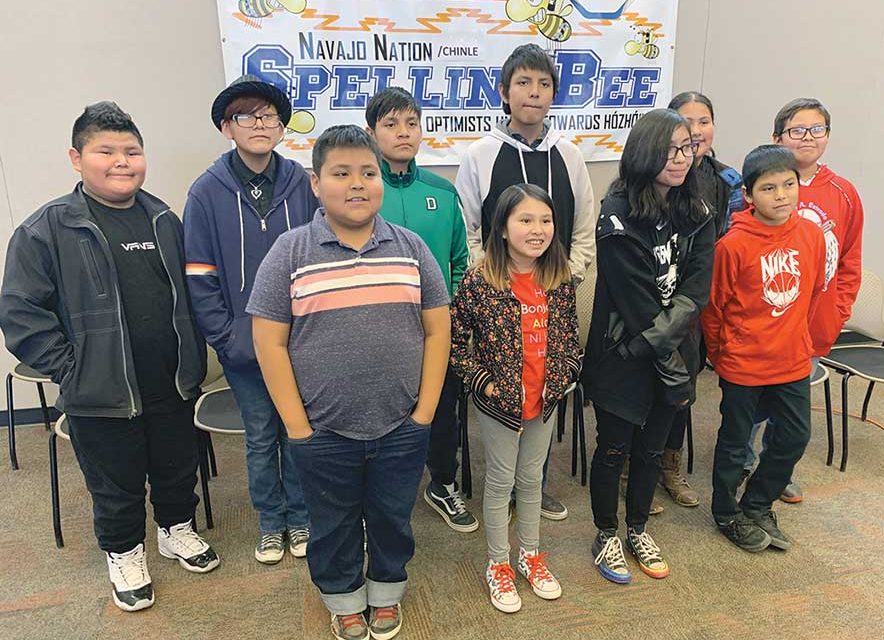 CHINLE
Some years, the winner of the Chinle Agency Spelling Bee is the first kid who can spell two words correctly back-to-back.
Other years, each grade seems to have one good speller who quickly eclipses the others. In a rare year, three or four evenly matched kids will duke it out for rounds and rounds until everyone's just ready for lunch.
This was a middle-of-the-road sort of year. There were at least two or three good spellers in each grade level at the agency bee, which was held Wednesday at the Chinle Unified School District boardroom.
Nor did one school dominate, as had sometimes been the case in the past. Rock Point Community and Piñon Accelerated Middle had an almost even number of first, second or third-place winners, with Tsaile grabbing three places (not counting the lower-grades bee where it claimed two out of the three trophies) and little Lukachukai Community taking home two, plus second in the lower grades contest.
As usual, the lower-grades bee was the most exciting contest, with three good spellers rapidly emerging from an initial field of 30 and then battling it out for the rest of the 34 rounds.
The first- through third-graders plowed through the first-, second- and part of the third-grade list before the judges made the decision to jump them to the dreaded fourth-grade level, meaning they hadn't seen the list to study from.
Tsaile Public third-grader Taylor Begay, her second-grade schoolmate Koen Harvey and Izek DeJolie of Piñon Elementary battled one round into the fourth-grade list before Begay dropped out on "amplify."
After two more rounds, Harvey emerged the winner, consecutively spelling "antennas" and "argue."
Harvey said being a reader is key to learning vocabulary. He devours anything about sharks.
Unfortunately, you won't see Harvey or the other younger champs at the Navajo Nation Bee for a few years; the lower-grade bee doesn't count toward nationals and is a creation of Shawna Claw with the Office of Diné Youth, who started it several years ago to help groom future champs from Chinle Agency.
Participation and competition got thinner and thinner in the upper-grade rounds, a common complaint of the students' sponsors, one of whom blamed "competing interests and hormones."
But the results were far from discouraging as each grade yielded a few good battles.
The seventh-grade champion, Nykala Redmustache of Piñon, made it the furthest into the word list, successfully spelling "kurta" (a long, loose-fitting, collarless shirt).
She credited "practice and patience," along with her study buddy, Wyatt Adrian, who had come with her to the bee for moral support.
"I say the words for her, which is hard, because I sometimes don't know how to pronounce them," Adrian said.
Rock Point sponsor Glorianna Benally escaped before being interviewed, but the other successful sponsors had various theories for their teams' success.
Labby Shepard of Tsaile Public said the school has been working hard on improving reading scores the past few years, using the Achieve 3000 literacy software, which matches articles of interest to each student's reading level so they can gradually progress.
The school also has its school bee early, so it can identify the school champs who will go on to the agency bee and start drilling them.
Piñon sponsor Eva Mahkewa noted four of her spelling team members are also on the chess team.
"I don't know if chess helps them with critical thinking skills, which they can use in figuring out how to spell a work," she mused.
Anyway, it was nice to see some evenly distributed talent, and there will be a few Central kids to track at the upcoming Navajo Times-Navajo Nation Bee March 11 in Kayenta.
Chinle Agency Spelling Bee Winners
1st-3rd Grade
Champion — Koen Harvey, Tsaile
Runner-Up — Izek DeJolie, Piñon
Alternate — Taylor Begay, Tsaile
4th Grade
Champion — Taryn Tso, Tsaile
Runner-Up — Cody Pekin, Piñon
Alternate — Alexandra Manygoats, Tsaile
5th Grade
Champion — YuuVa'a Milagros de Dios Griffith, Lukachukai
Runner-Up — Sheridan Ashley, Rock Point
Alternate — Savannah Lee, Rock Point
6th Grade
Champion — Logan Chee, Lukachukai
Runner-Up — Treden Nez, Rock Point
Alternate — Monte Williams, Piñon
 7th Grade
Champion — Nykala Redmustache, Piñon
Runner-Up — Xavier Manygoats, Piñon
Alternate — Nancyanne King, Tsaile
 8th Grade
Champion — Asher Harrison, Rock Point
Runner-Up — Logan Jim, Piñon
Alternate — Breyanna Begay, Rock Point
---