Football culture develops at Red Mesa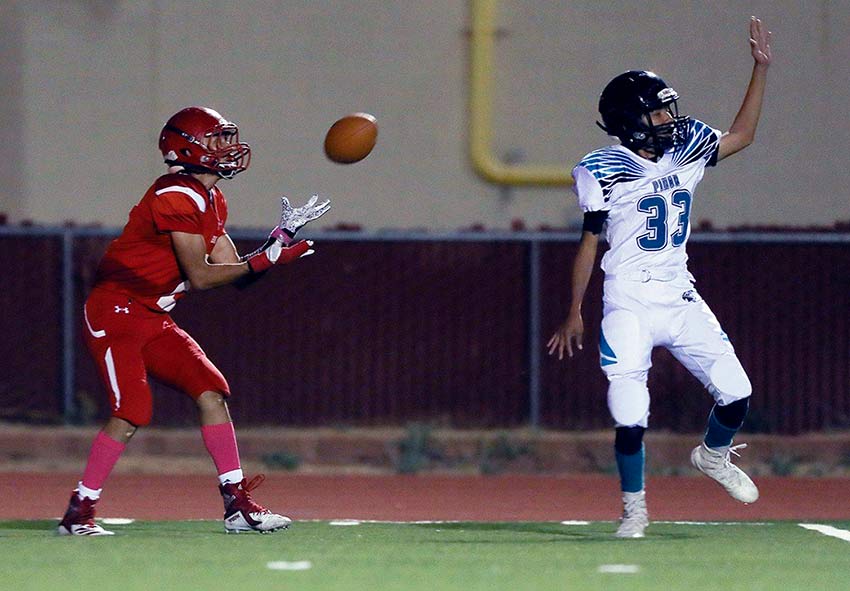 TEEC NOS POS
Among the students who roam the halls at Red Mesa High School is a group of young men who eat, sleep, and breathe football.
The young men are members of Red Mesa's football team, who have bought into a way of life that is a far from what most teenagers on the Navajo reservation are used to.
The lifestyle and football culture they've bought into has led them to an undefeated record of 7-0 overall and 3-0 in Arizona's 2A Little Colorado standings.
Red Mesa head coach Pita Olomua said it's that buying into that lifestyle has resulted into a successful season so far.
"We try to sell it. Me and my son played football. All my life, we come from a place where we eat and breathe football, in Hawaii, Samoa, we live it, that's what we're trying to implement to these kids," he said. "All these kids do is sacrifice, and for us out here it's a lot."
The players come from communities near and far; some travel 46 miles from Round Rock and others 32 miles from Dennehotso, to name a few. Other struggle to find a ride to practice.
But somehow they all get past their adversities.
Olomua knows these adversities well. He has coached Red Mesa football on and off for nearly two decades and has led Red Mesa to a number of state playoff appearances, but not in the last five years he returned to Red Mesa to coach.
He said he's spent the last few years building something he left behind years ago, and last year they got close to their ultimate goal: a state appearance.
The team just missed out as they played a non-Arizona team, which didn't count in terms of points when it came to power rankings.
"This is my second time around to build the program up. Before that we go to state quite a few times," he said. "Last year it didn't work out … It didn't count for the power rankings, so that's kind of the driving force behind what we're doing because our kids deserve to go to state."
Playing it smart is exactly what Red Mesa has been doing since before the season started.
As difficult as it was to get everyone to the school, into the weight room and onto the field over the summer, Olomua said the team somehow managed.
Having coached for many years, Olomua said the team put in the time and effort, and so did their families.
"They buy into what we're doing. I've been coaching for over 20 years and some of them kind of know the way I do things," he said. "The parents trust me with their kids. I've coached some of their uncles, family members."
An added factor to the commitment and drive the team displayed was the heavy group of seniors.
A core group of about eight seniors was hungry for a state appearance, and helped the rest of the team get on board.
Olomua said the core was serious about their goals and it didn't take much to get them to lead.
"I think we worked a little harder this year and the seniors wanted to leave their mark, that's the key," he said. "I just have great leadership, great kids. Pipkin, Roland Begay, Hearan Horse, and others, those are the kids that are the heart and soul of our team."
Red Mesa senior wide receiver Hunter Pipkin said the same group of guys who formed their own non-official middle school football team wanted to make history.
"It's the boys, the brotherhood. In junior high we just wanted to continue through high school. We realized that Red Mesa never beat St. Johns … We said we got to do it," he said. "In practice everyone had to show up and put in 110 percent."
Senior running back Roland Begay said the seniors on the team have also put some pressure on themselves to lead well.
He said leaving their mark doesn't just mean being good players, but being good teachers for the next group of upperclassmen.
---