Harvey finds success and education through bareback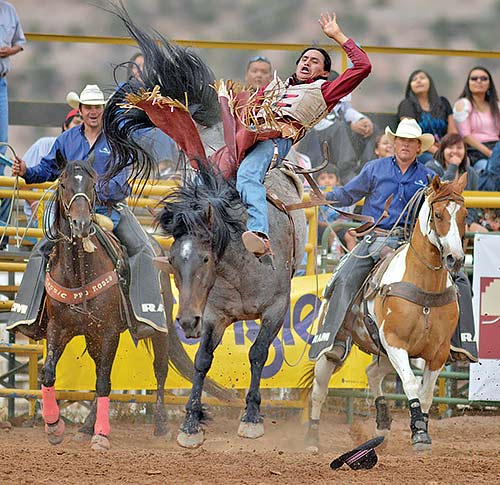 CROWNPOINT
For Ed Miles Harvey, choosing which rodeo event to pursue came down to two things.
His uncle brought out a saddle bronc saddle and a bareback rigging and was told to chose the one that could take him far.
After examining both, it didn't take long for him to decide.
"The saddle bronc was too confusing and the rigging looked easy," said Harvey. "It was like holding a suitcase so I stuck with bareback riding."
Besides recognizing the simplicity, Harvey chose bareback for another reason.
"There is this type of freedom you can feel when you are so close to danger but it makes you feel so alive," he said. "That is what I'm looking for and that is why I ride."
In addition, he likes the physical requirements needed for the sport.
His passion has led him to a lot of success at the collegiate level. Harvey finished the Grand Canyon Region in first place with 1,024 points and qualified for the College National Finals Rodeo this past June.
The Salina Springs, Ariz., cowboy rode three of four draws and considered that as an accomplishment.
---