Opportunity of a lifetime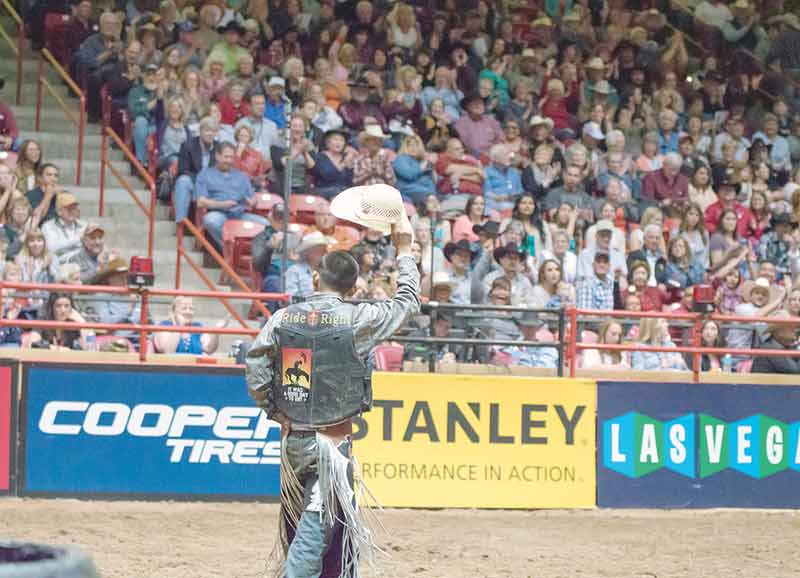 Ivan Sells makes the most of his PBR debut
ALBUQUERQUE
The loud crowds and the big-name bull riders were at the Ty Murray Invitational this past weekend.
That didn't stop local bull rider Ivan Sells from doing his best as he was within a few milliseconds of making Sunday's championship round at the WisePies Arena, aka the Pit, in Albuquerque.
The Rough Rock, Ariz., cowboy took 'Tyree's Pretty Boy' jump for jump before he got bucked off in 7.33 seconds in the third performance of the Built Ford Tough Series. The BFTS is an elite tour of the Professional Bull Riders association, which features "the world's top 35 bull riders going head-to-head against the fiercest bucking bulls on the planet.
"When I hit the ground I freaked out that I was pretty close to riding him," Sells said of his Sunday afternoon draw.
And while he admitted that he was a little disappointed afterward, Sells did get a sense of satisfaction.
"I almost covered him and who knows what could have happened next," he said.
All told, Sells needed to make his ride count and he would have challenged the likes of Brazilian riders Joao Richardo Vieira, Valdiron de Oliveira and Kaique Pacheco for a chance at this year's Ty Murray Invitational title.
"The Brazilians told me that bull goes up and down," Sells said of Tyree's Pretty Boy. "They told me to bare down and have some fun."
Sells said that was the best advice he got is his PBR debut as the 2014 International Indian Finals Rodeo bull riding champ earned his ticket to compete with some of the big boys at this year's Ty Murray Invitational.