SFIS holds off Cobre, advances to 3A title game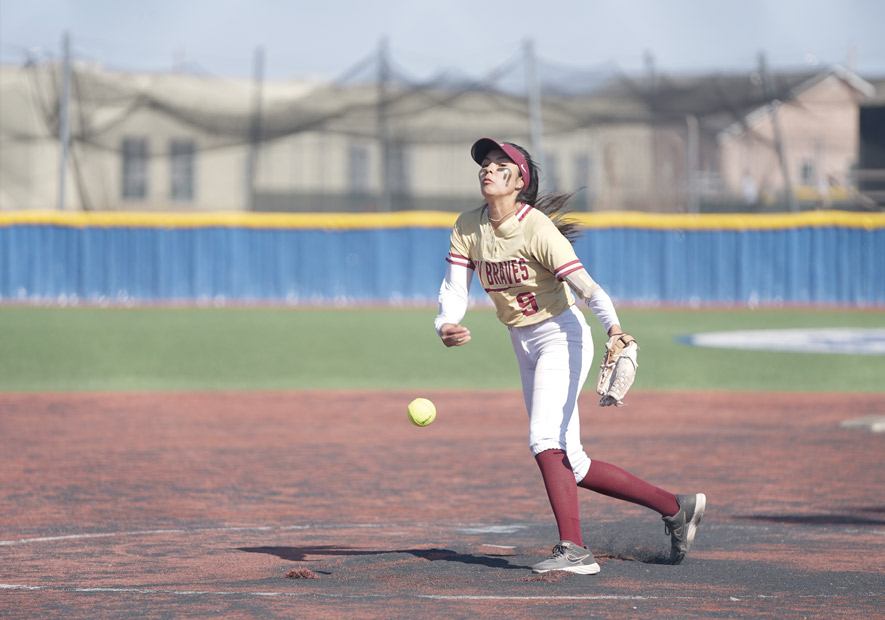 By Santiago Ramos Jr.
Special to the Times
RIO RANCHO, N.M.
Top seed Santa Fe Indian School had a pair of close calls during a breezy and cool Thursday at the New Mexico Class 3A State Softball Championships.
The 25-2 Lady Braves held on top No. 4 Cobre 2-1 Thursday morning at the Paul Kohman Field at the Eagle Ridge Softball Complex.
SFIS then met up with No. 2 seed and defending state champion Robertson before falling 8-4. Playing in the consolation bracket, the senior-loaded Lady Braves edged Cobre a second time in another nailbiter. SFIS won 7-6 before the sun set.
Santa Fe Indian mercy-ruled No. 8 West Las Vegas 12-2 in five innings Wednesday in first-round action at Cleveland High School.
The Lady Braves will face No. 2 seed Robertson on Friday at noon in a rematch of last year's 3A state finals at the UNM Softball Field in Albuquerque.
With Robertson yet to lose a state playoff game, SFIS has to beat the 24-5 Lady Cardinals twice to snatch the state title away from the defending state champs.
The Lady Cardinals coasted in its first two state contests by a mercy-ruled 16-0 win over No. 7 East Mountain and 20-2 over No. 6 Dexter 20-2 before downing SFIS 8-4.
SFIS and Robertson were pushed to eight innings in their previous three meetings. SFIS won the first game 10-7, and Robertson nipped SFIS 7-6 in the second.
SFIS head coach Oliver Torres welcomes the latest meeting with the Lady Cardinals.
"We had one really bad inning where they scored all their eight runs," Torres said. "They had bases loaded with nobody out, so we pulled the infield in so we could go home, and they hit little bloopers right over our infield."
Torres said that playing Cobre at state has been the norm.
"That's been the story for the past two years," he said. "We've had to go through Cobre, and Robertson hasn't. They've had easy brackets all the way both years, and our girls (had to) fight."
The SFIS coach acknowledges that they have to beat Robertson twice, but he's optimistic.
"I think we're ready," he said. "We'll come back hard … and nothing is impossible. Whenever you want anything in life, you gotta work hard for it. There's nothing better than working hard for something and earning it."
Torres said they have to be resilient if they want to win that coveted blue trophy.
"We've never won a state championship before," he said. "We're hoping, we're praying for it. Robertson is our nemesis. We want to beat the best."
Leading 7-2 going to the bottom of the seventh, Santa Fe Indian watched Cobre rally for four runs as it came up short with a tying run at second.
SFIS senior pitcher Shade Phae Young has gone the distance in all four state playoff games.
"Shade did a great job just like usual, changing up her speed and keeping them off-balance," Torres said.
In the consolation bracket, SFIS grabbed a 4-0 lead in the top of the first. Cobre cut that lead in half after scoring a pair of unearned runs in the fifth.
SFIS added a run in the sixth and two in the top of the seventh to go up 7-2.
But Cobre rallied with four runs in the bottom of the seventh before Young, who struck out nine, slammed the door shut on Cobre's upset bid with a huge strikeout to leave the tying run stranded at second base and advancing the Lady Braves to today's state championship game.
---