A history of winning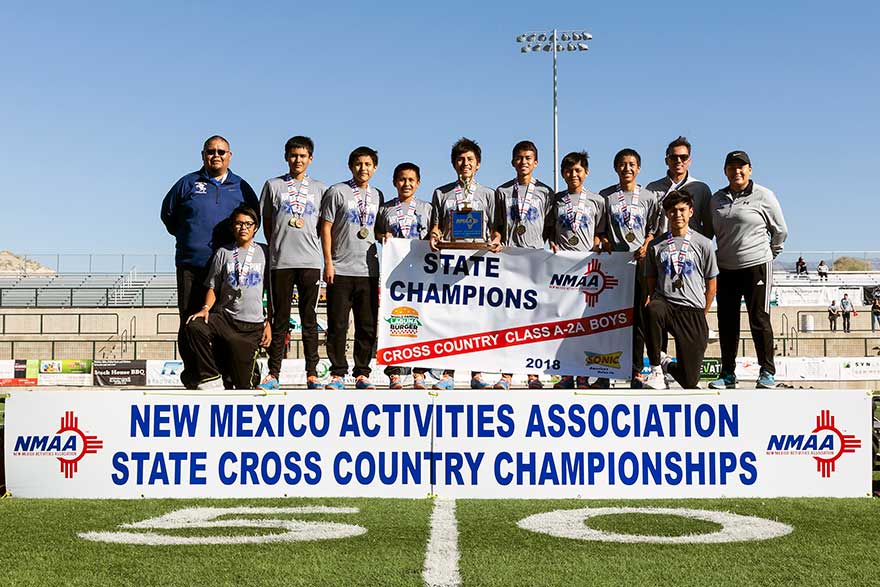 Navajo Pine wins back-to-back state titles
RIO RANCHO, N.M.
The Navajo Pine High boy's cross-country team is sick of the color green.
The third-place trophy that haunted them last season continued to even after winning a state title in 2017. So when they started the 2018 season, they knew they had to work.
"Before they came out here someone turned the green trophy around (to its front) and the boys went back in the trophy case and turned it back around," said coach Kaleigh Thompson. "They always want that green trophy turned around to its back because they know they could have done better that year."
"Then after last year winning it, they wanted to come in this year and win again," she said.
The team wanted to add another blue trophy this season in hopes of erasing the green one.
On Saturday, at the New Mexico High School state cross country meet, they finished in first place as a team with a total of 31 points. Pecos finished in second with 49 points.
Coming in first for the team and overall was Navajo Pine junior Galvin Curley. Curley finished in 16:14.15.
Curley finished second behind teammate Michael Marshall last season.
"It felt great," he said. "All the miles I put in over the summer, they paid off. All the extra work I did after practice, I felt like it paid off. When I was racing, everything just fell in place – it was just my race."
Curley and Marshall led throughout the race but with about a mile left, Curley took the lead. The two have battled for the lead throughout the season.
Curley said he had hoped to win the race but his mind was more set on winning a second state title with the team.
---