Frosh shine at 3A North XC meet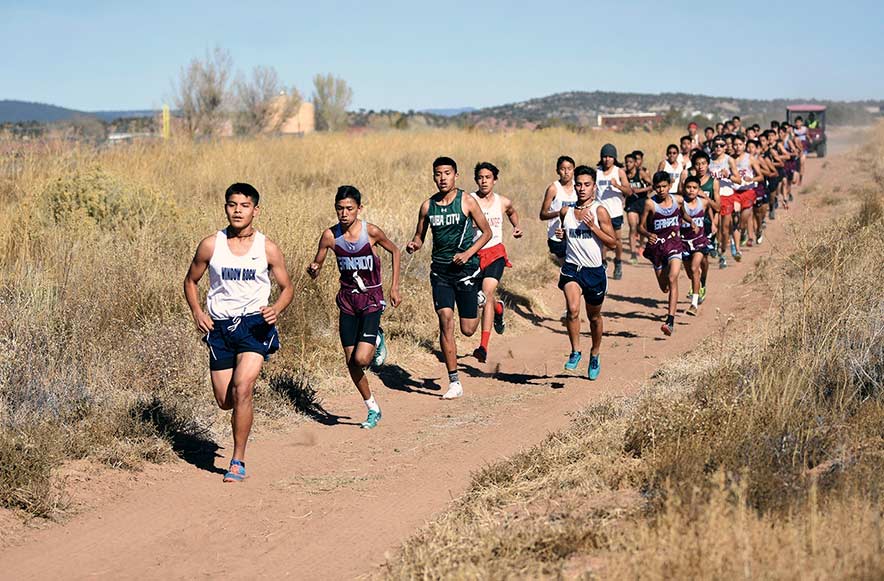 FORT DEFIANCE
With some conference teams mending injuries, the youth were served at last Saturday's 3A North Region Cross-Country Championships.
A pair of talented freshmen harriers finished first in their respective 5K races with Chinle frosh Temyra Bia winning the girls' race in 19 minutes, 27.15 seconds while the boys' crown went to Ganado ninth-grader Micah Slivers, who won his race in 16:16.33.
"I think I did pretty good," said Bia, who beat out a field of 39 runners. "Usually I don't start off too fast but I stayed up there. I kept my pace until halfway and that's when I started to pull away."
The Chinle runner finished 33 seconds ahead of reserve champion Deleanna Yellowman (20:00.57) as the Monument Valley freshman held off Tuba City's Shaelyn Honahni (20:03.80) and Ganado's Marissa Shorty (20:04.41).
In similar fashion, Slivers gained a significant lead midway through the race and outdistanced the pack with Page senior Skylar Sandoval placing second in 16:39.46, which was 23 seconds behind the Ganado runner.
"It feels good to accomplish one of my goals," Slivers said. "I wanted to do (well) here and winning this is pretty special."
Like Bia, Slivers said he paced off the top runners for the first two miles and in that last mile he picked up his speed on his way to victory.
"I just tried to push myself at the very end," he said.
Sandoval, who battled a gimpy right ankle, said he was happy with where he finished, considering the time he spent away from the sport.
"I sprang my ankle pretty bad so I was out for a while," he said. "I didn't expect myself to do that well but my goal today was to go a sub-17 (minutes), which I did."
Following Sandoval, Tuba City senior Demetrius Daw placed third in 16:42.87. He finished ahead of Window Rock junior Burlander Kee (16:47.04), Monument Valley senior William Wayne (16:58.11), Chinle's Ashriel Pouncy (17:10.12) and Ganado junior Chance Yazzie (17:10.59).
Rounding out the top 10 were Page freshman Orlandon Yazzie (17:14.42), Ganado freshman Cauy Curley (17:16.31) and Chinle sophomore Tristan James (17:30.76).
In the team race, Monument Valley captured the 3A North title with 62 points. The Mustangs placed all of their scoring members in the top 18 headed by Wayne.
Senior Autry Lomahongva was the next MV runner to finish the 5K-race with a time of 17:43.11. He narrowly beat out teammate Ian Salt (17:43.34) for 11th-place honors.
To complete the team score, senior Isaiah Whitehorse (18:01.43) took 16th-place while junior Colwyn Nelson (18:08.86) placed 18th.
In team standings, Chinle finished six points back with 68 points. Page came in third with 75 markers followed by Ganado (85), Tuba City (88) and Window Rock (118).
In the girls' race, the Lady Hornets packed six runners in the No.'s 4 to 9 slot to easily win the team title with 30 points. Tuba City tallied 57 for runner-up honors followed by Chinle (90), Window Rock (96), Monument Valley (113) and Page (152).
Marissa Shorty headed the Ganado group with sophomore Whitney James (20:08.78), freshman LaSundrai Baldwin (20:12.06), senior Jayla McIntosh (20:43.41), sophomore Marissa Smith (21:03.40) and senior Shaunda Yazzie (21:03.70) following closely.
Tuba City senior Rochelle Jackson (21:06.34) rounded out the top 10 runners.
With the 3A North Region championships in hand, Bia and Slivers said they are looking to close out the season strong, starting with Friday's sectional meet at the Hidden Cove Golf Course in Holbrook and next week's Arizona Division III state cross-country meet.
"I know it's going to be competitive but I want to do good," said Bia, who is one of the favorites to win the sectional meet.
As for state, she's looking to place in the top 10.
Slivers, meanwhile, wants to challenge some of the area runners, including Page harriers Rex Martin and Trent Holiday, in Friday's sectional race.
Both runners were not at last week's race but they are expected to be competing at sectionals on Friday.
"It's going to be tough," Slivers said. "I want to do great but I want our whole team to make state."
The Ganado runner said he's looking for a top 20 finish at state and as he matures in the next few years he's hoping to win a state crown.
"That's the goal," he said.
Sandoval, who was Page's only true varsity runner to compete at last week's region meet, said the Sand Devils should be at full strength just in time for the sectional and state meets.
"We haven't raced together in a while," Sandoval said of the varsity squad. "We've been hurt to where we've put one, two or three varsity runners in each race."
With a rich tradition, the Page senior said they have high aspirations of winning an unprecedented sixth state crown.
"We've had too many injuries but I feel like we're going to do OK," he said. "We're going to be pretty much healthy for state."
---