Local teams wrap up state high school X-C meet in Cave Creek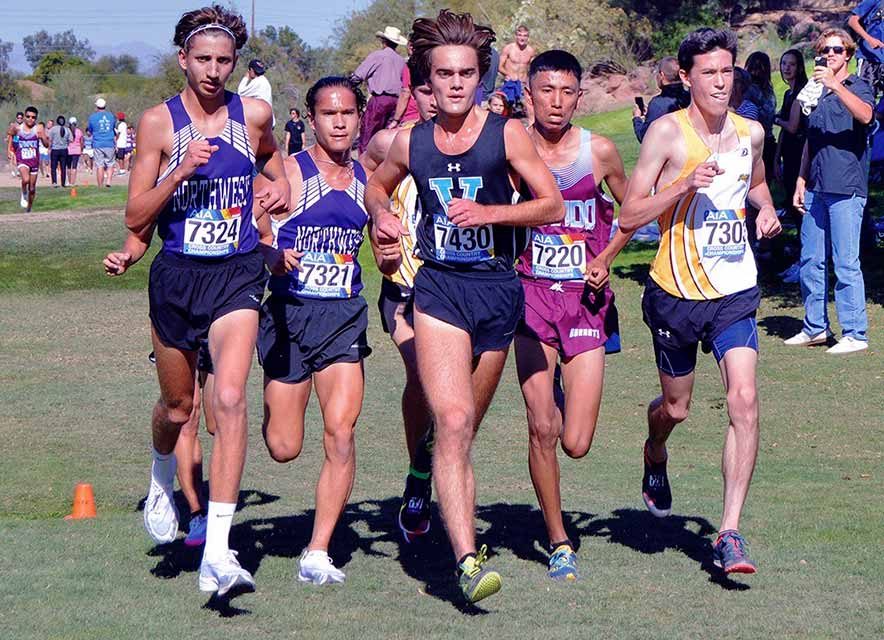 By Candace Begody
Special to the Times
CAVE CREEK, Ariz.
There was so much about the state cross-country meet that everyone missed.
The competition, the vibrant energy of cheering for one's team into the finish line, seeing familiar faces of the running community, and racing for the annual bragging rights.
Arizona high school cross-country runners finally felt those familiar feelings at this year's 2021 Arizona State High School Cross-Country meet over the weekend in Cave Creek, Arizona, as many teams completed their first full season since the COVID pandemic.
Although there were still concerns, Tuba City competed a full boys' team, and qualified three individual runners on the girls' side in Division III.
"It feels great to be back in Phoenix, just seeing the other coaches and the other runners, I think that is what the kids really missed," said Tuba City head coach Arvis Myron. "By competing against other teams, that is really the only way that they improve.
"Once they get to competing with other kids, their times improve quite a bit. It also gives them confidence when it comes to race day," Myron said.
The Tuba City boys team finished in 15th place with Alisseo Honanhi finishing in 29th place with a time of 17:30, followed by Rias Merino in 66th (18:22), Darron Yowytewa in 79 in 18:42, Joseph Buck in 94th in 19:06, and Keyon Jenson in 192nd in 21:10.
Myron said as soon as the season began, many on the boys' team wanted to make up for lost time by intensifying their training. That, however, left the team plagued with injuries throughout the season, including two that did not run at the state meet.
Despite the challenges, Myron said the team was simply grateful to have completed their first full season since the pandemic.
"We were ready," he said. "We just wanted to come out and run. Of course, with the pandemic, it has been a wild ride but the kids really wanted to come out and run."
That wild ride forced the team to shift their training regimen.
"A lot of the kids hadn't ran for about a year and a half when we first started the season because everyone was forced to stay home," Myron said. "We pretty much had to get them used to running again. So, the first three to four weeks, we just ran miles.
"Once we saw that they were handling that well, we started getting into tougher workouts," Myron said. "The last four weeks of workouts are usually pretty fast so we increased the intensity then brought it down as we got ready for state."
On the girls' side, Tuba City only had three qualifying runners.
"The girls responded well to the race today," he said. "We really wanted them to be race-ready today and they did very well. We just wanted them to get out to the front, hold the pace and just do what they can."
Leading the Warriors was sophomore Mikayla Numkena, who placed 15th overall with a time of 21:00, followed by Shanelle Zeena (48th) who finished in 22:38 and Alexander Benally-Begay (93rd), who crossed the line in 23:56.
Numkena, who led the girls side all season said, heat and lack of training played a factor in her performance. Nonetheless, "I am really proud of myself and everyone that competed, and I'm pretty happy with the overall season."
This was Numkena's first-ever high school cross-country meet.
"I missed out on my freshman year because of COVID, but I am really confident about next year and I can't wait to run next year," she said. "I just really missed traveling, watching other people train and seeing the competition."
Asked about next year, she simply added, "Just look out for me next season."
Though they don't want to look too far ahead, Myron said, "I told the kids, 'Once the race is over on Saturday, I want you all to start thinking about next season.' We are looking forward to next year for both the boys' and girls' side."
Holbrook
Much like Tuba City, Holbrook qualified a full boys' team and competed one individual on the girls' side. The boys' team finished overall in 7th place with a score of 261.
Senior Namath Gene set the pace and placed 4th in a time of 16:33, followed by Damon Attakai in 30th place with a time of 17:33. Leyton Tom placed 84th, crossing the finish line in 18:52, followed by Loren David in 90th, in 19:03, and Kenneth Nez in 99th, in 19:10. On the girls' side, Holbrook's lone state qualifier was senior Abigayle Nez, who finished in 11th place with a time of 20:35.
"When we finished track season last year, we gave them a couple weeks off, and we got them into getting in the miles," said Zane Morgan, second-year head coach. "They got some miles in over the summer – all of the boys who competed today in addition to Abby.
"They did the foundation work and were able to build up to the final race they had today. I am really happy with their performance," Morgan said. "It was a good day."
The challenges of this first season back couldn't be overstated and the team looks forward to next season. Having finally started a junior high cross-country program, Morgan said they are eyeing some up-and-coming runners.
"We have some junior high runners that have been running very well so we have a good team coming up and we are looking forward to it," he said.
Page
Page boys – the only local team to take home hardware – took runner-up honors with a total of 127 points, behind Salpointe Catholic (46 points). Page's scoring runners included Colton Yazzie, who finished in 16th in a time of 17:17, followed by Cody Slim and Tanner Dugi, in 24th (17:25.1) and 25th place (17:25.3), respectively. The fourth and fifth scoring runners were Hunter Jenson, in 35th place in 17:46, and Gavyn Begay in 49th place, in 18:07.
"It was a tough field," said Brandon Dugi, first-year head coach of Page. "There were a lot of really good runners and a lot of good teams. Sal Catholic is a team we are always up against.
"They were just the better team today and we definitely congratulate them, but it motivates us and pushes us to do better," Dugi said.
Though training proved to be a challenge, Dugi said their hard work was a testament to their overall finish.
"The past year and a half has been really hard," he said. "Much of the talent we have lives on the reservation and just finding a way to get them to practice was hard.
"We really had to work with the ones that missed the off-season practice but they all did the best that they could and we worked with what we had but they all did very well today," he added.
Page boys will graduate three seniors, but Dugi said the team will welcome three to four eighth-graders.
"We are really excited to have them," he said. "They ran very well at the state meet."
Of sophomore Jade Reid, who was the lone female competitor, Dugi said, "Jade did really good as a sophomore placing ninth. She still has a long way to go. The heat was definitely an issue but other than that she ran a good race."
Reid placed 9th crossing the finish line in 20:30.
Looking forward, Dugi said, "From here, we are going to take a month or two off, and start to get them ready for track season. I don't want them taking too much time off. I want to make sure they are fit and ready to go. It's important that they keep the endurance during the offseason."
Dugi, who was the assistant coach last year and a 2015 graduate from Page High, has big shoes to fill having taken the reigns from long-time head coach and a pillar of the running community Theo Martin.
"Theo showed me the way last year," he said. "I am a runner myself and coaching is something that I really enjoy. I am still pretty young in coaching, but I am looking forward to it."
Chinle
Chinle boys finished in 12th as a team, placing its scoring runners in the following order: Tristan James finished 21st in 17:21, Tristan Xichtencati in 59th in 18:18, Michael Williams in 77th in 18:36, Kylen Yazzie in 104th in 19:12 and Gehrend Yazzie in 138th in 19:51.
"The boys do feel down coming in 12th but we have to reassure them that they came a long way," said the boys' first-year head coach Bryan Begay. "If we had the whole season, I think we would have had it but it was hard to get the boys together at the beginning of the season, myself coming in as a new coach, and this being our first full season.
"It took a lot of motivation but we came together after a whole year and a half," he said, "and for them to come back together as a team, to perform down here and to level out the competition, I am just really proud of them."
Begay added: "I just want to congratulate all the teams that came here. This is a sport that I love, that we all love, and I have always done this since I was a kid.
"To come back and seeing your dreams through these kids, and to relive your dreams, that is why we are here. Being a part of their journey has been a great opportunity."
Chinle girls finished in third place with a total team score of 97 points, behind Coconino in first (72 points) and Salpointe Catholic (74 points) in second. Chinle's top runner Temyra Bia placed 4th in 19:53, followed by Tumayah Bia in 8th with a time of 20:18, Janessa Segay in 14th place in 20:55, Neveah Scott in 19th in 21:14, and Mariah Bahe in 68th with a time of 23:14.
Chinle girls' head coach Beatrice Begay said, "The girls did fairly well today. We had a few injuries off and on throughout the season. I know they struggled to finish but they did pull together for this end result.
"It has been a whole year and a half with no training at all, and it was hard coming back in when August came around," she said. "I think that was the biggest struggle for all of us.
"Moving forward they know that they need to look at where they are in their training and begin to train during the offseason," she added. "I am just proud of everyone – both boys and girls. They did very well today and I am very proud of all of them."
Winslow boys placed two runners Payton Nicholas and Leon Barton in 34th and 41st, while Window Rock placed their sole runner Ryan Kee in 26th.
Ganado
Ganado competed in Division IV this year. The girls team placed fourth, behind Northwest Christian, Glendale Preparatory Academy in second, and Pusch Ridge Christian in third, and placing runners in the following order: Whitney James (7th) with a time of 21:12, Annamaria Yazzie (31st) in 23:05, Lyndsay Thomas (72nd) in 25:22, Marissa Smith (73rd) in 25:34, and Tedra Leonard (86th) in 26:15.
"It felt great to be back at the state meet with all the local teams," said Ganado's head cross country coach Leandra Thomas. "Overall, as far as everyone's performance goes, everyone gave their best effort, especially considering all the challenges of the year, and as a coach, that is all I ask of them. We are looking forward to next season although we will miss our seniors, it was a great season."
On the boys side, Ganado placed sixth overall with its scoring runners as follows: Micah Slivers placed third with a time of 16:34, followed in eighth-place by Cauy Curley in 17:20, Jayden Smith in 23rd in 18:03, Zach Thomas (79th) in 20:24, and Austin Kee (104th) in 21:04.
---