Laguna-Acoma netters capture first state title: Hawks put away 43 kills in sweep over top-seed Tularosa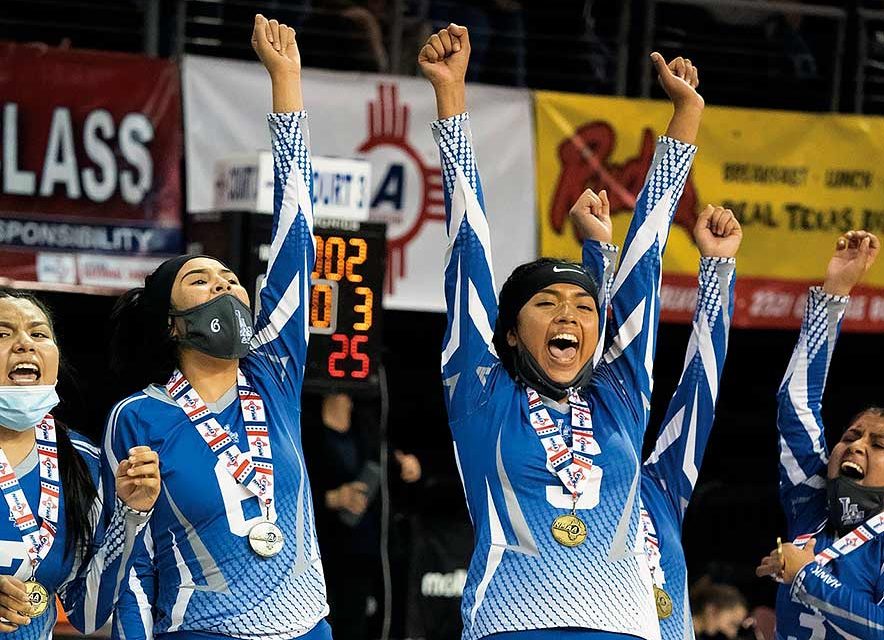 RIO RANCHO, N.M.
The front row hitters of Laguna-Acoma dominated the net in the New Mexico Class 2A state title game.
The Hawks put away 43 kills, sweeping top-seeded Tularosa on Saturday at the Rio Rancho Events Center.
The 25-22, 25-20 and 25-12 triumph earned the school's first state title in the sport.
Middle hitter Geralynn Day had nearly half of those kills as the 6-foot-1 junior put down 18.
"I had to wait for it and swing away," Day said of her exploits at the net.
The state championship team also got 11 and nine kills from juniors Sylvia Gedman and Hailey Kelsey as the Hawks boasted a team that featured four players around 6 feet tall.
"We had this (match) under control," Gedman said. "We just put everything we had all on the floor and we took it play-by-play and server-by-serve."
Gedman said capturing the state title is a dream come true.
"It means everything, especially coming from a small 2A Indian school," she said. "We've never won this before so we're gonna go home and celebrate. This is a year to remember.
"I have tears of joy and I'm so excited that we have our first state championship," she added. "It feels so good."
Laguna-Acoma coach Esther Lorenzo said it's been a while since the school has challenged for a state title. According to the New Mexico Activities Association archives, the last LA team to play in finals was in 2002 when the Hawks was state runner-up under then coach Chris Sarracino.
"This is what we worked for and this is what we prayed for," Lorenzo said. "We just told the girls to play their hearts out and they all put their hearts into it."
In the opening set, the third-seeded Hawks trailed 21-17 but they made a comeback with its front row hitters and the play of libero Aalyiah Hershey.
"I never liked playing the libero but coach thought I would be good at it," Hershey said.
"Our senior has been with us for four years and she worked her butt off," Day said of Hershey. "We promised her that we would play this game for her and we did it. We dedicated the game to her."
With Hershey anchoring the defense, the front row hitters finished the first set with a flurry of hits.
The Hawks put down five kills as Day's seventh winner capped an 8-1 outburst for a 25-22 win.
In the next set, Gedman had four early kills to give LA a 7-5 edge. After three rotations, Day went to work as she added four kills and two blocks, stretching the Hawks' lead to 14-7.
A stuff block from Gedman extended the lead to 22-11 before Tularosa rallied.
The top-seeded Wildcats got as close as 23-20 but the Hawks scored the set's final two points on a kill by sophomore Savannah Suazo and a Tularosa hitting error.
In the ensuing set, the two teams traded side outs, which resulted in a 7-7 tie. As the match wore on, the Hawks used a couple of mini rallies to put some distance between them and Tularosa, winning 25-12.
"This is hard to believe," Hershey said. "I didn't expect this at all, but during practice last week coach told us to take it all in and do our best."
During the two-day state playoffs, the Hawks dropped only one set each to No. 5 Captain and No. 6 Escalante while sweeping second seed Texico and No. 1 seed Tularosa.
"We were happy with what we got, so it didn't matter," Lorenzo said when asked if she felt that her team was slighted for getting the No. 3 seed.
"As you can see anything can happen," she said while making reference to the 4A championship game with No. 7 seed Artesia defeating top seed Hope Christian for the state title.
"We watched that happened tonight, so anything can happen," she said.
With Hershey the only senior member on the team, the LA coach acknowledges that every 2A team in the state will be gunning for them.
"That's for sure," Lorenzo said. "We have most of our kids coming back so we're going to be the targets."
---