Narbona Pass Classic champs battle Goat Hill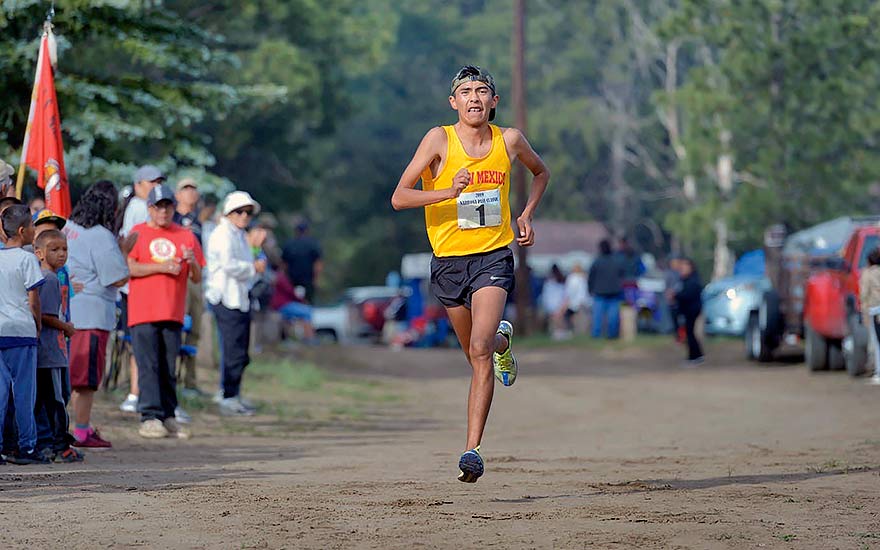 NARBONA PASS, N.M.
Ty McCray felt his legs giving out while trying to conquer Goat Hill, the final steep incline of the 10K race at the 40th Annual Narbona Pass Classic.
"For some reason I felt like stopping," the 18-year-old said.
Despite his legs "burning out," McCray persisted as he captured his second title in a row on a cool Sunday morning.
The Miyamura alumnus beat his time last year by over a minute, crossing the finish line in 36 minutes, 40.40 seconds.
"I didn't think I was going to repeat again," McCray said, who was coming off a right knee injury.
That same hill bothered women's overall winner Ali Upshaw as she refused to look at her stopwatch while going up that steep slope.
"I usually use my watch to gauge my pace but I was too tired to look at it," said Upshaw, who finished the 6.2-mile course in 43:44.17.
"That hill is really hard to go up but I've trained here before," she said. "I've ran the course three times before so I knew what to expect and I knew it was going to hurt right from the get-go. It was just a matter of not stopping."
After ascending the top of the crest, Upshaw said she got into a rhythm and coasted from there.
"I just got into a tempo and I'm just happy with the way I finished," she said.
In two previous tries at the 10K race, Upshaw said she was not pleased with her performance, even though she did finish third last year.
Going into Sunday's race, she wanted to push the envelope early on.
"I wanted to get out of my comfort zone because the past two years I've been getting out pretty slow," she said. "Today I was, like, 'Let's see how far I can push myself up the mountain and see how much I have down that hill.'"
---