Rio Rancho Jamboree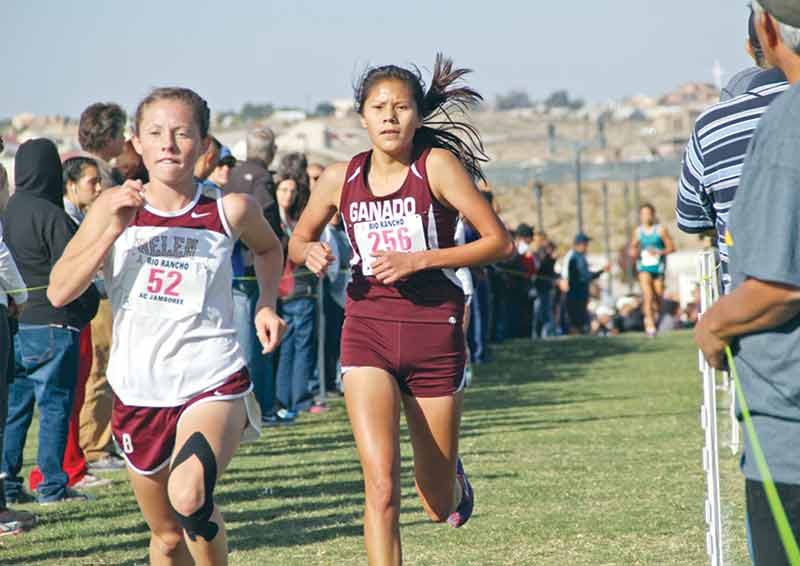 Ganado runner places third in tight race
RIO RANCHO, N.M.
Some runners don't look forward to having to race their opponent neck-and-neck down the final stretch, but Ganado High School senior Daangoiina Haven thrives on it.
Haven ran elbow-to-elbow with Belen High School's Arena Lewis for about 10 meters but fell short at the finish line at the Rio Rancho Jamboree on Saturday.
Haven finished in third place in the girl's championship race that featured the top runners but she was ecstatic with her performance, specifically her finish.
"I started my sprint and then you could just hear the crowd all screaming. I was coming up right behind her (and) we got shoulder-to-shoulder but she was one step ahead of me," Haven said. "I'm very pleased. I really want to finish like that at all my races."
The Ganado senior said having a finish like that increases the likelihood of her shaving off some time off her race.
Sue Cleveland High School sophomore Amanda Mayoral won the Jamboree as she crossed the finish line in 18:30.94. Lewis came in second with a time of 18:45.50 followed by Haven in third at 18:45.75.
Other top local finishers included Window Rock High School's Chamique DuBoise, who finished in fifth position with a time of 19:08.95 and Kirtland Central High School freshman LaKyla Yazzie in ninth place with a time of 19:20.56.
---