St. Michael soph gets "monkey off my back"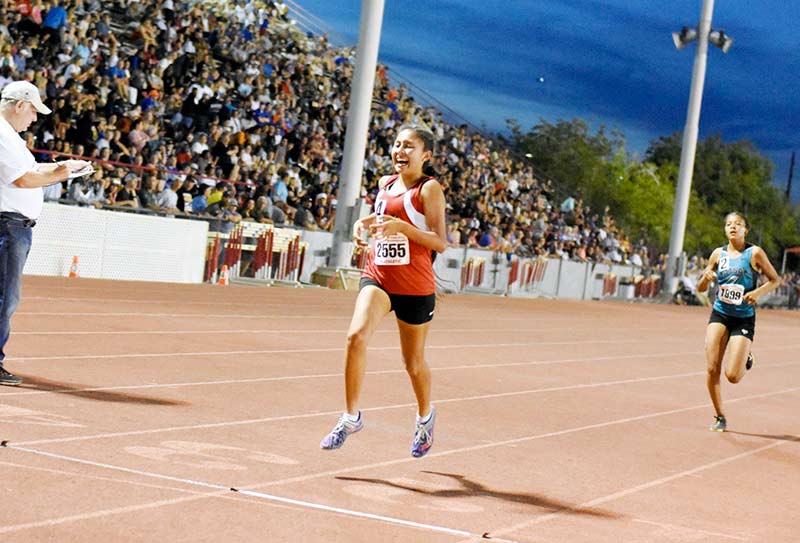 MESA, Ariz.
Dating back to her middle school years, Ali Upshaw was looking for her first big moment.
The St. Michael sophomore could not get over the hump as she finished as the reserve champion in a handful of state races. Last year she took home two silver medals at the Arizona Division IV state track meet.
Last Friday, she earned another second place finish in the 1600-meter race.
In the final day of the state track meet, Upshaw finally got a chance to savor that feeling she's been seeking since her seventh grade year as she claimed the gold medal in the girls' 3200-meter race on Saturday night at Mesa Community College.
"These last couple of years I was always getting second and that was real disappointing," she said.
With a huge grin, Upshaw completed the roughly two-mile race in 11 minutes, 33.04 seconds, ahead of Piñon junior Precious Robinson, who recorded a time of 11:34.24.
"After all those (second-place) finishes my mom would tell me that this will teach me and make me stronger," Upshaw said. "It bothered me a little bit but it feels good to finally get that monkey off my back."
In the opening two laps, Upshaw trailed two Northland Prep runners and on the third lap she took control of the race as she paced the other runners, including Robinson.
"The first mile we came through pretty slow," she said. "My mom gave me a specific time to hit in the 5:40 range. We came in at 5:50 so I started to pick it up."
Despite looking comfortable out there, Upshaw did have blisters to contend with. She said she developed them earlier in the day when she competed in the 4×800 relay race, which took place right before noon on Saturday with the temperature reaching triple digits.
"Not to make any excuses but my feet started to hurt right at the 200 mark," she said. "I had my foot taped but I could feel it coming."
Nonetheless she ignored the pain as she stayed a few steps ahead of Robinson as the Piñon junior closed that gap in the final lap of the race.
"Second place is not bad at all for me, especially with where I started," Robinson said. "I feel really good about my race today."
---