Outside looking in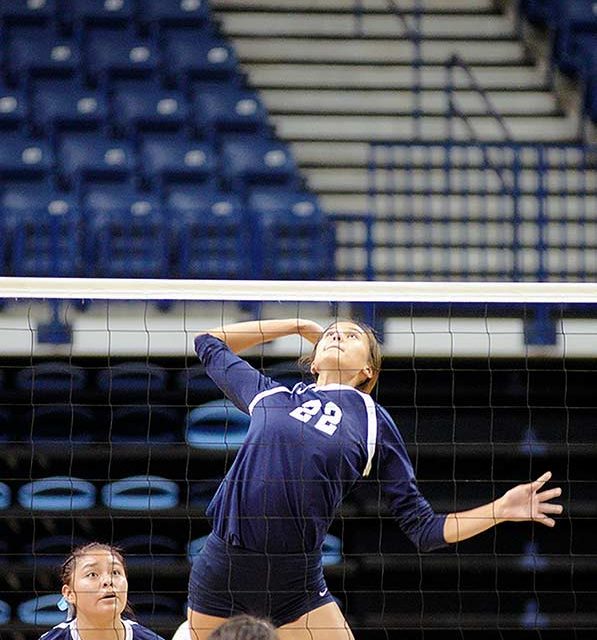 Window Rock netters hoping for a playoff spot
FORT DEFIANCE
Like most teams on the bubble, the Window Rock Lady Scouts are hoping to improve their chances at a state tournament berth this week.
Window Rock completed the regular season last week, losing to Tuba City in straight sets last Saturday afternoon. The set scores were 25-15, 26-24 and 25-20.
The Scouts, 6-11 overall and 3-7 in conference play, earned the No. 5 seed and they are scheduled to play No. 4 Page (8-9, 4-6) in the first round of the 3A North Region volleyball tournament at 9:45 a.m. at Monument Valley High School.
The winner of that game advances and plays top seed Monument Valley (14-3, 10-0) with the survivor playing in the championship game, which is scheduled for 5 p.m.
"We still have a chance to go to state," Window Rock coach Amelia Holtsoi said, adding that her club needs to make the championship game to get an automatic bid.
On the other side of the bracket, No. 6 seed Chinle (5-13, 0-10) plays No. 3 Ganado (11-6, 5-5) at 11:30 a.m. with the winner advancing in the next round with a date with No. 2 seed Tuba City (14-3, 8-2).
On Tuesday night, the Lady Hornets rallied from a 2-1 deficit to pull out a 20-25, 25-11, 13-25, 27-25, 15-10 win over Chinle on senior night.
"It's good to know that our team can recover from a couple of bad sets," Ganado coach Jerome Burns said in a telephone interview. "That is always good to see."
---