PV practically flawless in match with Gallup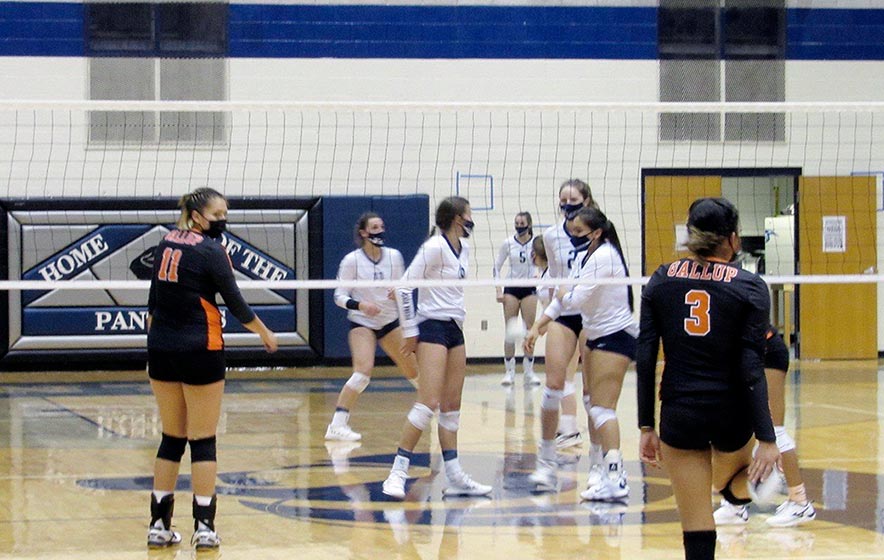 FARMINGTON
Other than a few mistakes, the Piedra Vista volleyball team could do little wrong in its match with Gallup on Saturday afternoon.
The Lady Panthers came up with 49 winners to Gallup's 31 in a battle between two district frontrunners.
PV, the District 1-5A champs, won in straight sets over Gallup, the District 1-4A favorite. The set scores were 25-11, 25-20, 25-16.
"We had a few unforced errors that we need to clean up," said first-year PV coach Hazel Jackson, whose team improved to 9-0 overall. "We had a few serving errors, and we had some passing errors that we shouldn't have made."
In spite of those errors, the Panthers scored in waves against Gallup, and they did that in different ways. PV was effective in putting down kills and serving up aces during the one-hour match.
In the opening set, the Panthers got off to a fast start, leading 14-3 behind 11 early winners. Gallup cut that margin to 20-10 but during a rally the Bengals temporarily lost the service of junior middle blocker Jordan Joe, who twisted her ankle on a spike attempt at the net.
"Some of our girls missed practice so we started already out-of-system in our first set and then in the next two sets we couldn't recover, especially when Jordan got hurt in that first set," Gallup coach LaRena Morris said. "I think everybody just went into panic mode, so we were kind of sloppy from there on out."
After trailing 6-2 in the next set, Gallup got some good swings from its other middle blocker, Hailey Long, as she had three consecutive kills that cut PV's lead down to 9-7.
Later in the set, the Bengals went on a 3-0 run to get within 16-15 with Joe hammering down two kills.
The Panthers, however, wouldn't relinquish the lead as they opened up a four-point cushion before winning 25-20.
In the final set, PV got a monster outing by senior Kacee Moore as she put down nine of her team-high 17 kills as Gallup had no answer for the 6-foot-2 outside hitter.
In addition to Moore, PV also utilized the size of 5-foot-11 Bailey Rasmussen and 5-foot-8 Blaize Bingham as they finished with nine and six kills, respectively.
"We have a lot of versatile players so there's a lot of talent this year," Jackson said of her undefeated team.
Two of those players have signed already with Moore heading to NAU next fall while Rasmussen will play for Snow College in Richfield, Utah.
Having already won the district, the Panthers will close out the regular season will three more games this week. They will host Bloomfield today, entertain 5A Rio Rancho on Friday and be on the road at Aztec on Saturday.
"I haven't really seen them yet so it's going to be interesting," Jackson said of Rio Rancho.
The Bengals will finish out the regular season with two district games starting with a home match against Miyamura today and an away game at Shiprock on Saturday.
"We're getting ready for that," Morris said. "We need to be mentally focused because a lot of times they get down when they make a mistake or two. We're coming up with ways to overcome that."
At 7-3 overall and 5-0 in district, Morris said playing a team like PV will serve them well during the state playoffs.
"We've never had tough hitters like that," she said. "I have a short blocker and when we have that short blocker it brings the big hitters outside. We saw that tonight so they're going to need how to learn and adjust to that."
Nonetheless, Morris said her team has done a good job at adjusting to the teams they've played.
"Our transition that we've been working on is going a lot smoother," she said. "So they're getting out a lot quicker in the front row and running the plays we need to run."
As for the juggernaut PV squad, Jackson said there is a lot of potential in her team to do well at state.
"I feel like if they can play our game, we can go all the way," she said. "But if we let little errors or unforced errors enter then we can have trouble, so hopefully we'll play our game and come out swinging and passing on the ball. You got to win the serving in the passing game."
---