Wings to offer 15 running, fitness camps for youth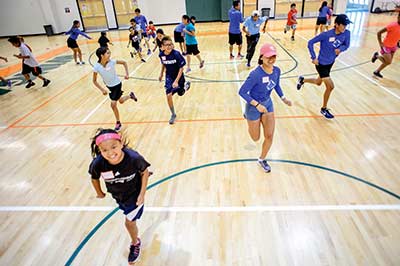 WINDOW ROCK
As a beacon in promoting health awareness, Wings of America will have another go at it with their summer camps.
The nonprofit organization will offer 15 free camps across the Navajo Nation starting June 11 and 12 at the Tonalea Day School and Chilchinbeto Community School.
"Wings Running & Fitness Camps aim to show youth that summer break is an opportunity to get outside and explore the beautiful places we live," Wings director Dustin Martin said in an email comment. "We are only given one body each lifetime and one of the best ways to care for it is to use it to take us cool places."
With the help of facilitators, Martin said they are ready to serve anywhere between 15 to 100 kids at their camps.
"We equip our facilitators with the games, drills and language they need to impact the youth in an organized fashion," Martin said. "With the basics of running as their focus, they also find cause to talk about the benefits of a balanced diet, the history of Indian running, the realities of college and the future of health care in our country."
Martin said each facilitator is a living example of what they are trying to promote and he's hoping that every participant will be inspired to live a heathy lifestyle.
"The goal is for our participants to leave feeling empowered by the lessons transmitted by the facilitators," he said. "But we also want them to be tired and sore from the two days of exercising while having a lot of fun."
---