Fourth-quarter-game falls short for Bloomfield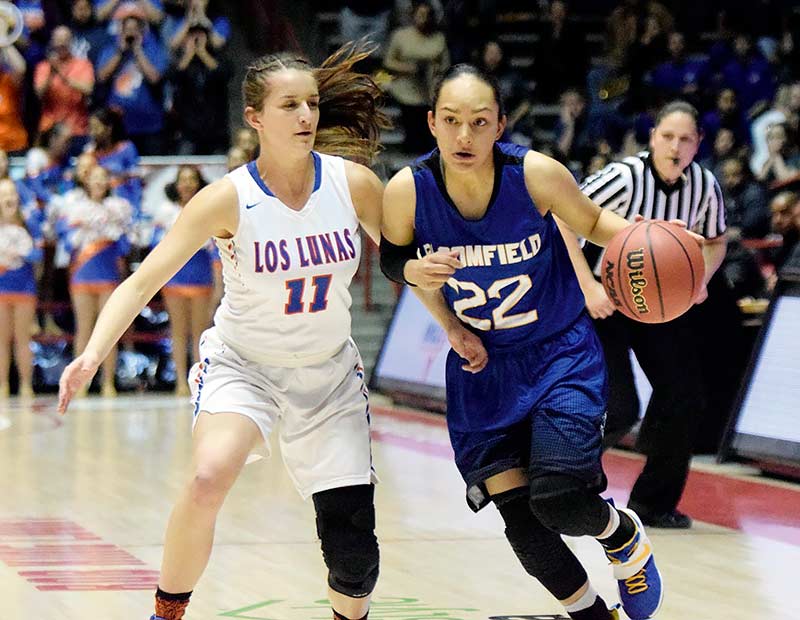 ALBUQUERQUE
The Bloomfield Lady Bobcats did not win a blue state trophy but still left Dreamstyle Arena as champions.
The No. 2 Lady Bobcats fell short to No. 1 Los Lunas in the Class 5A girls state championship game last Friday, 48-43, and earned Bloomfield's second runner-up trophy in school history. They also played in the school's first championship game in 34 years.
Bloomfield head coach Tom Adair said his team just missed the win, but didn't leave empty handed.
"I've never been prouder of a group of athletes my whole life," he said. "These young ladies showed up expecting to win and they did everything in their power to make it happen.
"It's basketball so we missed a few shots at the end but we had our opportunities, we had our opportunities to be state champions," Adair said. "But in my book, everyone of these ladies that wore the Bloomfield blue are state champions."
The two teams had already met three times during the regular season with Los Lunas holding a 2-1 advantage. But this time Bloomfield showed up ready to play.
The teams did not stray far from each other and when one scored the other answered. Bloomfield had a 13-12 lead after the first quarter.
In the second, Bloomfield made a small run that gave them the lead throughout the quarter. They led 17-12 to start off the quarter and Los Lunas tried to even things up, Bloomfield led 21-19 at the half.
Los Lunas head coach Marty Zeller said his team didn't play well in the first half.
"They played us very well tonight," he said. "Starting out we didn't play very well, and it didn't get much better in the first half."
---