'Let your kids dream and believe': IndigiNerds swarm ABQ Comic Con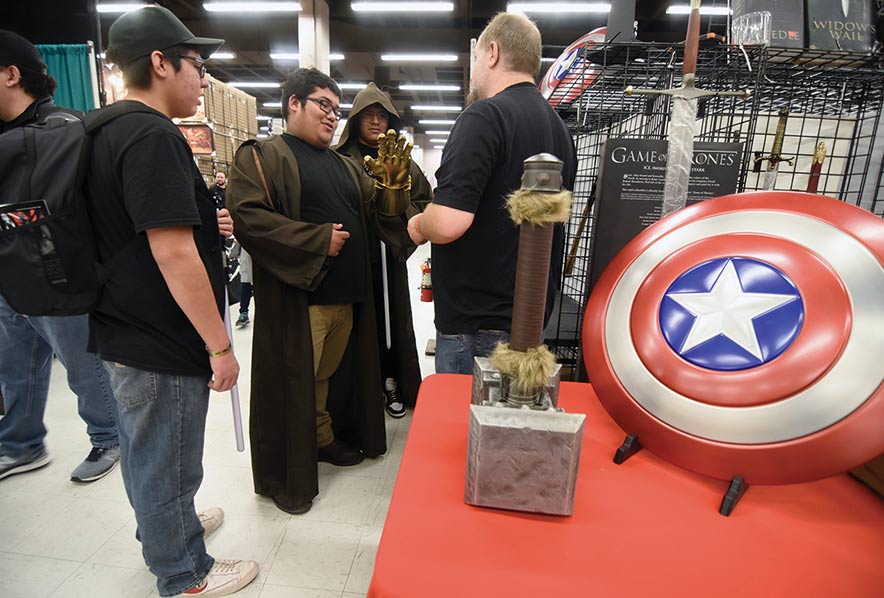 ALBUQUERQUE
Raymond Trujillo identifies as an IndigiNerd. He loves animé and comic books. He even said he would be dressing up in cosplay on the second day of the 10th Annual Albuquerque Comic Con.
He would be a character from his favorite anime series, "My Hero Academia," which melds together his two favorite things: superheroes and animé.
"(My Hero Academia) places a very important value on individualism and growing your own individual powers even if it seems useless," Trujillo said about why he likes the series.
The blond wig he would be wearing for his cosplay was sitting atop a styrofoam mannequin head as he set up his booth for the small business he owns, Mr. Woo's Equippable Items. Trujillo is a skilled beader from Laguna Pueblo. He learned from his great-grandmother and his grandmother.
"It was just something to do to fill time while I was in college," Trujillo said.
Then, he fell in love with creating beadwork designs of his favorite animé and comic book characters.
"It's in between what is cultural and what's nerdy," Trujillo said of his work. "I do have a large Native clientele that comes through. They always want to see what's new. What's different. If I made the thing they're really looking for. Also non-Natives, it's that item that's Native without being culturally appropriating. It's a nice fit really."
Not only was it fun but a new challenge for him as an artist. He also didn't see other folks creating beadwork for the very niche characters in animé and comics.
"I used to do traditional Native designs, but they're easy," he said. "Essentially they're four-way symmetry. I don't need the pattern once I get used to it. These (his beadwork) were actually a challenge for me to make."
His beadwork goes beyond Superman, Batman and Hello Kitty into the vast world of nerd culture that has worked its way into the mainstream consciousness through events like Albuquerque Comic Con.
The first Comic Con started in San Diego in 1970 and almost 50 years later has grown into a premiere international pop culture event that inspired cities all over the country and world to create their own. Comic Con has been embraced in countries like Australia, Canada and the United Kingdom.
Albuquerque is home to three — Albuquerque Comic Con, New Mexico Comic Expo and Indigenous Comic Con which rebranded last year as IndigiPop X Abq.
This was the first year that Shayne Shupla, her husband Alan Shupla and their son Uriah Shupla attended Albuquerque Comic Con. The family loves Star Wars and the Marvel superhero movies.
When Shayne asked her son Uriah, who is a toddler, who his favorite character is he said "Baby Yoda."
Then Shayne asked him, "What about this guy?" Shayne was pointing to the Spiderman mask she was holding.
This is when Uriah handed his mom the knitted Pokemon ball he had been playing with and proudly put on his Spiderman mask.
"Let your kids dream and believe whatever they want," Alan said looking at his son. "He believes he's Spiderman and I'm not going to ever take that away from him."
It doesn't end there.
"Every time we walk through automated doors at Walmart, everywhere, I tell him to use the Force and he does it," said Alan, who is from First Mesa, Arizona. "Hopefully, he passes that on to his family when he gets older."
The Force is an energy in the Stars Wars trilogy that connects everything to everyone. The Force can be used for strength in times of need, for telekinesis and to predict when something is going to happen.
Shayne's favorite films are the Star Wars trilogy. She has thought very deeply about the trilogy and what it means to her.
"We were talking about it and how it relates to Indigneous people," Shayne, who is from Shiprock, said. "That's the number thing that I loved about Star Wars. I see a lot of history with what happened to Native people in Star Wars, with what happened to us."
On the other side, Alan liked how action-packed the films were but more importantly what the trilogy meant to him growing up.
"When I was around 11 or 12, me and (my father) stood in line for four hours to catch a Star Wars movie," Alan said. "Now I can do that with my son and he's all for it."
Alan's father was a big Star Wars fan and when the films first came out in the late 70s and early 80s, he used to wait in line for hours to see the films. So Alan and now Uriah are the next generations to carry on this legacy.
Uriah even got to meet some Navajo jedis at Comic Con. They were Deshaun Garcia, Jerry Sleuth and Kammeo Saunders.
"You get to be whoever you want to be here," Kammeo Saunders, 18 from Thoreau, New Mexico, said.
Saunders was dressed as a jedi complete with the iconic brown robe and a lightsaber.
"You don't have to worry about anyone saying anything," Saunders said. "There's just all these people who embrace that. It's just nice to see it somewhere."
Being a part of the same fandoms of Star Wars and the Marvel comic books has also strengthened their friendship.
"We could just be friends but our love for Star Wars and comic books has brought us closer together," Saunders said.
The teens even started recreating iconic weapons used in the Marvel comics.
"We've built our own things from Marvel comics," he said. "He (Jerry Sleuth) has a Captain America shield. I built Iron Man's helmet."
Why do they do this?
"If you're building an Iron Man helmet, you feel like Iron Man," Saunders said. "If you build his (Iron Man's) Arc you feel like you become one with the character. You have Captain America's shield you can stand there tall and proud like Captain America. It's all that."
This was the largest Albuquerque Comic Con to date and featured appearances by famous actors like Carl Weathers, who plays Apollo Creed in the Rocky Trilogy, Nikolaj Coster-Waldau who played Jaime Lannister in Game of Thrones, and David Acord, voice actor/sound designer for The Mandalorian, Star Wars' Revenge of the Sith and the Force Awakens.
This was the 10th anniversary of the event.