Summer in the tribal parks: NavajoYES celebrates after three years of Covid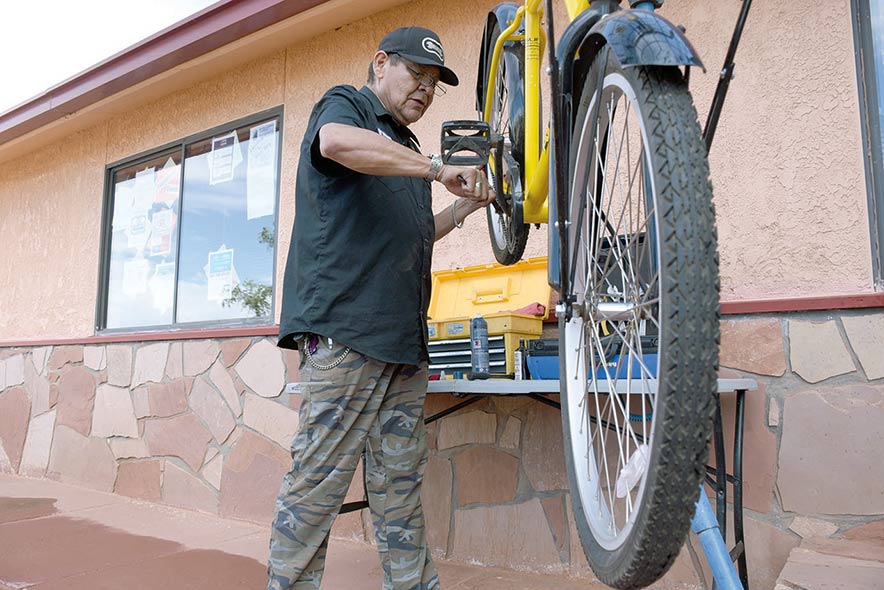 ŁICHÍI'II, Ariz.
Kylie Begay spent time with her friends and family and enjoyed the rain showers over the summer.
She and her family went on long trips occasionally, said the 15-year-old sophomore at Page High.
"It was pretty cool," Begay said. "The water (in Lake Powell) has been going down, and it was hot. It was always raining, and hopefully, that will make the water rise more."
Begay was one of the students who attended NavajoYES Summer Celebration in the Parks on Friday at the LeChee Chapter House, where musician Nolan Karras James entertained.
People also enjoyed eating at a food truck/healthy snacks, took part in a fun run, had their bicycles tuned, and students took home new school supplies.
Begay said she picked a new planner, a binder, notebooks, highlighters, and folders that would help this semester.
"I'm not sure what I want to do after high school, but I want to travel the world," Begay said. "I want to be part of a study abroad program.
"I haven't picked out a college yet, but I'll be joining track and field this year. I'm looking forward to that," she added.
Bike mechanic
Archie Beard's yellow Atlas sun bicycle is made to withstand the demands of light industrial use or enjoying a day at the beach.
Beard, who's originally from Na'ni'á Hasání/Dził Łibéí, said he attaches his saddle bags and a basket onto his cruiser when he rides around town.
His bike has a high-tensile steel frame, and Beard says it's a heavy-duty that doesn't disappoint.
"But I wanted (Manuel Chavarria Jr.) to check it for me because I can't keep it straight (and it's out of alignment)," said Beard, a retiree from the Arizona Department of Transportation who lives in Dá'deestł'in Hótsaa.
"I came from Cameron/Gray Mountain in 1984, and I'm still here," he added. "I was a highway worker."
Beard said he likes the cruiser he got from his son. One would get used to it because it has the stamina for whatever the day offers.
"Uphill (paths) are tough, but you'd get used to it," he said as Chavarria worked on his bicycle.
Chavarria, of Manny's Bikes in Polacca, Arizona, is a certified bicycle mechanic who attended and finished his studies at the United Bicycle Institute in Ashland, Oregon.
At one time, he was one of the only Native certified bicycle mechanics.
There are quite a few now, said Chavarria, who often participates in NavajoYES' bike races and events across Diné Bikéyah.
"I work for nonprofits fixing bikes," Chavarria said, "refurbishing them and giving them to folks in the community – kids, families, schools, and things like that. So, I work with NavajoYES a lot.
"I also work with Diné We Can and the 'SiiHasin Bike Program,'" he said. "There's a lot of us (Native certified bicycle mechanics) now. There's a bike movement on the Navajo and Hopi reservations, and it's getting really big."
Chavarria, Kiis'áanii, is also a mountain biking coach for middle and high school students. He runs the "Hopi Composite" interscholastic cycling league team.
He said there's also a "Navajo Composite," a "Gallup Composite," and a "Silver Stallion Composite."
"Those are the Native teams," Chavarria said. "We compete in the Arizona Cycling Association and usually compete on a weekend against over 1,000 kids. This is my fifth season, and we're starting the season on Sept. 10."
Navajo parks
Tom Riggenbach, the executive director of NavajoYES, said the program had a busy and fun summer because a lot has been going on across Diné Bikéyah.
He said the Summer Celebration in the Parks events started at Four Corners Monument on Aug. 6 and ended at the Little Colorado River Navajo Tribal Park on Aug. 28.
The NavajoYES team visited five Navajo tribal parks in August.
"We're just visiting the parks and getting the local communities to come out and have a good time and get an update on what's going on," Riggenbach said, "get their bikes tuned up and get ready for fall; have some healthy snacks and get a few school supplies if they need it."
Riggenbach said trail development and improvement across Diné Bikéyah is going well, particularly in the tribal parks, such as the Wildcat Trail, the main trail around the Mittens, near Tsébii'ndzisgaii.
"We also did a new trail, the Lee Cly Trail – another popular (Tsébii'ndzisgaii) trail," Riggenbach said.
The Lee Cly is a short but epic route in Monument Valley.
"We've also been doing some really cool workouts on the Rainbow Bridge trails, and I'm hoping to take that to the next level," Riggenbach said. "Now, with Covid starting to fade, hopefully, we've some great things in the works for that (Tsé'naa Naní'áhí trails).
"The LCR Navajo Tribal Park has been doing some really cool things, and (it) has a project plan for this fall," he said. "And we're discussing some of the backcountry trails – some improvement and work on those trails."
Riggenbach said the Four Corners area also has numerous trails, but many people don't think there are any.
"The Four Corners has about four miles of single-track trail, and it's really fun," he said. "It's a totally different landscape than Rainbow Bridge, the Little Colorado River, and anything else. It's its own place and really beautiful in its own way."
Another project NavajoYES is working on is the Chuska Mountain Bike Route is a long-distance route through the Chuskas from Red Valley to Mexican Springs.
Riggenbach and his team established campsites and rest areas and erected compost toilets and picnic spots along the path on an existing public road.
"People can go out there for an afternoon, or they can go out there for three days," he said. "Some people have ridden the whole length of it in three to four days of bike-packing."
He added that many events are happening across the Nation and many people are ready to give back after dealing with Covid.
"Now, we're at a point where we're almost back," Riggenbach said. "When Covid started in 2020, we dialed back, stopped our live events, and started doing everything virtually.
"We wanted to keep people moving and active, so it's kind of hard to imagine what it would have been like without social media," he added.
"Then we started doing modified races the latter half of last year," he said. "Now we're getting the races back to life without increasing the risk of (Covid) exposure."
---