Tonalea-Red Lake celebrates for new chapter house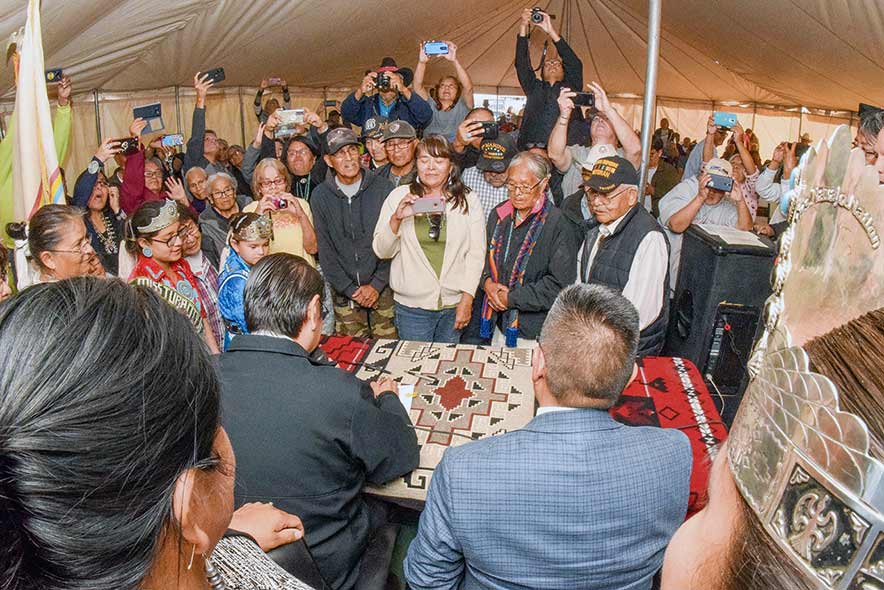 By Krista Allen
Special to the Times
TONALEA-RED LAKE, Ariz.
When the chapter house was condemned as a health hazard by the Division of Health's Office of Environmental Health Code Enforcement in 2015, the building was evacuated and meetings were held in different locations.
The chapter moved to the senior center, a place often heavily congested during lunchtime, then to a government office in Tónaneesdizí, then to a warehouse on the chapter compound, and then resettled in the senior center again.
A tent was placed inside the warehouse at one time to give some relief from the cold during winter meetings. Portable heaters also helped keep the warehouse warm.
A wood-burning stove was installed when the tent was returned to the owner. And having a stove meant that firewood was needed regularly.
Local Joe Dayzie has continuously said that a new chapter house is needed here. He even tried to help secure one when he was a Council delegate but was always told, "No insurance."
But this community never gave up hope and consistently prayed for a new chapter house. Their prayers were answered Nov. 1 when a resolution (No. 0262-19) was approved 18-1 during Council's fall session. Speaker Seth Damon then signed the legislation that would allocate $3 million from the Sihhásin Fund for a new chapter house.
"I know the community of Tonalea prayed for a new facility and their prayers were answered," Delegate Paul Begay (Bodaway-Gap/Coppermine/Kaibeto/LeChee/Tonalea-Red Lake) said in an interview.
"We're really grateful and the community's grateful," he said. "There were so many thank-yous and people shed tears. And we're very grateful for the approval and the signing of the legislation."
President Jonathan Nez, along with Vice President Myron Lizer, on Nov. 9 signed the bill surrounded by locals. The community celebrated with food and a groundbreaking ceremony.
"The funding for the (new chapter house) took a long time, it was going toward nine to 10 years," Begay explained, pointing out that former delegates Duane Tsingine and Tauchoney T. Slim Jr. also helped during their tenures.
"When we got inaugurated on Jan. 15, I looked for the packet, which I found in the archives," he said. "So I took it back out and I put it back into motion."
Begay said to get a bill like this approved and signed you must follow it through the legislative process, making sure it ends up before the president. This process for this bill took around eight months.
"I kept following it, keeping track of where it was, eventually we got the legislation completed and we went through the standing committees within eight months," Begay said. "After that, of course, it went through the five-day comment period and then we had to wait for the fall session to come around and we got it on the agenda.
"And the way to get a legislation to pass is you have to have the understanding of your colleagues who will eventually vote on your legislation," he said, "educating them and saying there's a need for the community."
But it takes planning before something like this happens, said Slim, who pointed out elders such as Chee Secody who envisioned a new chapter house when he was younger.
"A community is being built," Slim said in Navajo. "When you're literate, that's the ticket to see the world. Education is the only way (infrastructure) for a community will happen. And carrying with you your grandparents' teachings and integrating it with the education system, change will happen too."
Slim went on to say, "Tonalea, you've done your work. If you didn't say anything, a new chapter house would never have happened. I always say, when our people came home from Bosque Redondo – it's still the same. We've added infrastructure to our communities only little by little. What is our future like? What will our communities look like? How far will our growth be?"
Slim said if Diné begin planning and renovating their communities, the Nation will begin to move forward.
"But that's also the reason why leaders cannot move forward," he added. "That's why we talk of 'plan of operation' and 'land-use plan,' both of which consist of laws and policies. That's the reason for our Council delegates who make the trip to Window Rock to champion for our communities. I am thankful for this. Let's keep planning for our communities."
Nez said now that the bill was signed, this is where the physical work begins.
So what's the purpose of a new chapter house when there's needs like water and electricity across the Nation? Nez said a new facility brings a sense of hope and pride back into a community.
"Our children will say, 'Wow, there's a brand-new building in Tonalea-Red Lake. I want to help, this is exciting!' That's what happened to us in Shonto. We barely used to make quorum," Nez said.
"That's probably what's going to happen here," he said. "This government facility will help facilitate a lot of those discussions and planning for this community, for our people. I'm excited for you!"
Nez added that Begay one day came to his office on behalf of the locals here and said a new chapter house is needed here.
"He spoke passionately, and I could hear the love for his people," Nez said. "He has a way of talking to his colleagues and to leadership. So did Tauchoney, Mr. (Edison) Wauneka, Otto Tso – we need infrastructure here in Western Navajo, right? We're here because of your prayers and your work for a new chapter house. This is going to leave a lasting impression for our young people."
Construction of the new chapter house will begin in early 2020 and be completed by the end of the year. The architect for the facility is Dyron Murphy Architects of Albuquerque. The project planner is Andy Thomas from Window Rock.
The new chapter house will consist of many features, including a room arranged similarly to a traditional hogan facing east.
"We're going to have enough room for everybody to accommodate their meeting places," Begay said. "We're going to have a large meeting area designed in a hogan shape for cultural identification."
A dedication of the new Tonalea Chapter House will take place in the fall 2020.
---