Family, fans celebrate the legacy of champion fancy dancer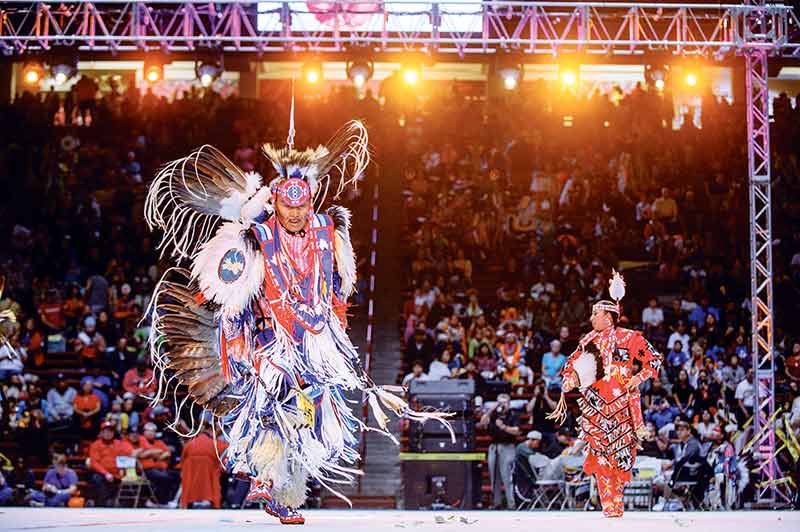 ALBUQUERQUE
In years past, Spike Draper entered the arena alongside his father during the grand entry of the annual Gathering of Nations Powwow.
But this year was different as Tommy Draper Sr. walked alone.
Spike, whose real name is Tommy Draper Jr., passed away in May 2015 and the day after his death, his father received a letter stating that his son was selected as the head man dancer for this year's Gathering of Nations Powwow.
Needless to say, Draper walked onto the arena floor with the spirit and memory his late son, a 15-time Gathering of Nations fancy dancing champion.
The organizers of the event, which draws thousands of spectators and dancers, had sent a notification of their decision to have Spike as the head dancer, a letter his dad opened the day after the passing of his son.
Organizers still made Spike the head dancer and dedicated the opening day of this year's event "Spike Draper Day" on April 29.
Draper led almost 3,000 dancers into the arena – the image of his son emblazoned in the beadwork on the chest of his regalia.
"My daughter and my wife made this," he said, as he pointed to the beadwork. "He's riding right there."
Draper had shared the craft with his son since an early age, and Spike became a staple of Gathering of Nations as he made the art form his own.
"He grew up here," he said of his son. "Before that we went all over, then they started this powwow here. We've been coming ever since he was a little guy."
---