Four Diné women vying for Miss Western Navajo title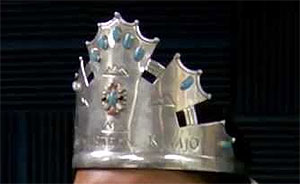 PAGE, Ariz.
Four young women will compete for the Miss Western Navajo title at the LeChee Chapter.
The four women for this year's pageant are: Nicki Begay from Shonto, Ariz., Tasheena Benally from Leupp, Ariz., Waltrina Riggs from Tonalea-Red Lake, Ariz., and Shaundeen Yazzie from Tuba City.
Reigning Miss Western Navajo Jessica Hazel Dodson, 24, says the pageant is a preliminary to the prestigious Miss Navajo pageant.
"There's a lot of public speaking," said Dodson in an interview with the Navajo Times on Thursday afternoon. "You interact with a lot of people and you've to be faithful to your words."
Perhaps not surprisingly, the biggest commitment is the responsibility to represent Western Navajo, which encompasses Utah and Arizona.
Dodson, who is from LeChee, says throughout her incumbency, she's been a role model to the young people as well as the elderly.
"I look to my elders for advice," continued Dodson as she disclosed how she acquires talking points for presentations on Diné culture.
And like any other distinguished position on the Navajo Nation, one of the requirements for Miss Western Navajo is being able to speak fluent Diné bizaad.
"It has a lot to do with (communication) with people," added Dodson. "You've to have a lot of courage … knowing your language and culture."
The Miss Western Navajo pageant will begin Sunday at 9 a.m. Contestants will be judged in 8 separate categories, which includes modern skill and talent; traditional skill and talent; knowledge of weaving tools; and public speaking.
Former titleholders say the earliest Miss Western Navajo pageants were better than today when there were more contestants and a sheep butchering contest.
Dodson, who is Tódích'íi'nii and born for Tł'izíłání, says times are changing and the sheep butchering contest was put to an end due to "economic reasons."