Prayer run to Sisnaajiní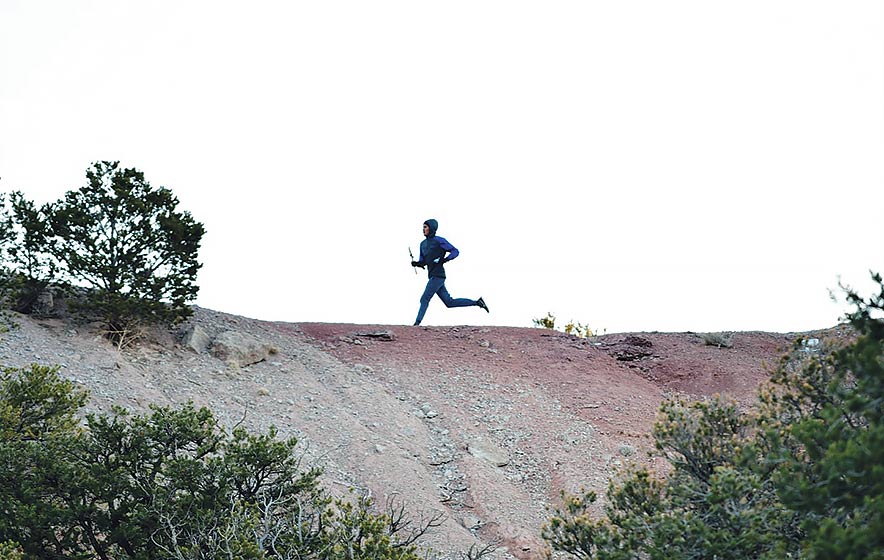 By Bazhnibah
WINDOW ROCK
Sisnaajiní is the sacred mountain that sits to the Navajo east direction located in Colorado. It is one of the four mountains that protect the Diné people within.
Sisnaajiní, or Mount Blanca, as told in Navajo, was created with white shell, white lightning and rain clouds. Diné pray, make offerings and sing to these mountains that make up Sisnaajiní.
Thoughts and thinking are the foundation of learning that stems from this direction, according to the Diné way of learning. It is this direction to the east that matters most to many Navajos.
We pray, we wake, we run, and ask for guidance upon the dawn and rise of the daily sun.
To the runners who partook of the Sunrise Prayer Run to Sisnaajiní, waking up before sunrise in the winter was cold but also a wakening of the spirit.
The prayer run began in 2018 when the first Sunrise Prayer runners started after 26-year-old Amanda Dakota Webster, a Navajo from Cameron, Arizona, was murdered on the night of Dec. 1, 2018, in Florence, Kentucky.
Outraged by this tragedy, a group of Native runners like Simon Jones of the Navajo Nation felt that they had to "take action, to try and help raise awareness to the Missing and Murdered Indigenous People epidemic and heal and bring about balance."
Jones, who is a Diné runner, coordinated the run this year in 2020. In the early 15-degree weather on Friday morning, Dec. 18, five runners started off one by one from the Window Rock Veteran's Memorial Park.
The first runner, Dominique Clichee, Diné sprang from one hill over another and along the N12 route to Fort Defiance. Charles Atsye, Laguna, was the second runner from Fort Defiance, followed by Mitch Garfield, Tule River; Simon Jones, Diné; Ooh-Shook McDarment, Tule River; and Steven Peyron, Tule River.
The Tule River tribe is from mid-California where it is mostly warm with a low elevation, so Navajo was a bit difficult to run in the high elevation. Each runner was blessed with prayer and medicine before the start of the run. As they continued running nearing Sisnaajiní in Colorado, the air was cold, but they were feeling "strong with our ways and prayers, in that way we shall continue in beauty," they echoed.
Out of nine runners only two are women. Others came in support. So for five days they trekked 365 miles, reaching their destination by Tuesday, Dec. 22. The runners felt that they, the Nation, and the land were out of balance and especially due to the MMIP situation and other issues stemming from the coronavirus.
They hoped to bring healing and balance for themselves and the Native tribes together through running.
Bazhnibah is Ruth Kawano, a registered nurse, MSN, retired captain, U.S. Public Health Service, U.S. Air Force veteran, writer and photographer.
---