Author says traditional knowledge is key to successful life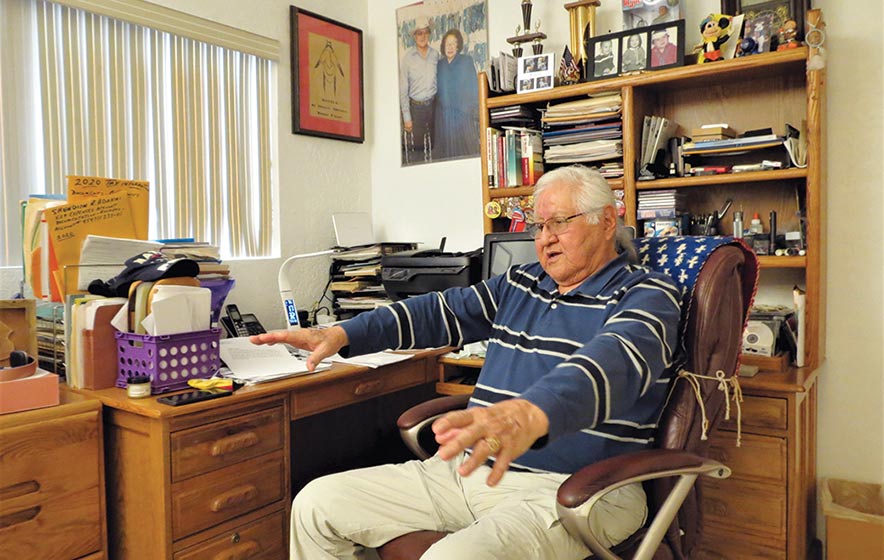 By Colleen Keane
Special to the Times
ALBUQUERQUE
When he was a young child, Frank Adakai, Yel'nah'yah (One Who Has Walked It), often walked with his grandma down a familiar trail to the Manuelito, New Mexico trading post.
During the walks, his másáni encouraged him to always remember Diné traditional ways. "I want you to remember them," Nasbah told him. "We have our own ways of doing things, our traditions, our ceremonies, our songs. If you remember them, you will never go wrong."
Introducing himself, he said his maternal clan is Tódich'ii'nii and paternal clan is Naakai Dine'é. First book (sub) Adakai, 80, tells in his soon-to-be-released book, "Yel'nah'yah, One Who Has Walked It – the real-life story of a successful Dinéh,'' how the original teachings made a difference in his life.
In addition to stressing the importance of respecting others and taking responsibility for oneself, Adakai said the elders advised the younger generation "to meet us back halfway, meaning that after we did our schooling, we went back home and got a job.
"I always remembered those words, so I came back (to the Navajo Nation) in 1960." That's when he started a career in law enforcement that lasted 37-and-a-half years, eight years in uniform and 29-and-a-half years as a federal agent. In a June 29, 1966 Arizona Daily Star article, Adakai appears along with several other Diné officers at a 20-week training session conducted by the Tucson police department. The article is headlined "The Reservation's Finest."
Adakai quickly rose from an officer to captain in the Navajo Nation Police force. Then, as a BIA law enforcement agent, he handled violent conflicts, major crimes and a significant federal judicial issue, the well-known Wheeler double-jeopardy case, which eventually ruled in the favor of tribal sovereignty. "That was one of my cases," he said.
While he worked all over the country, which included the Red Lake Nation in Minnesota and the Mescalero Apache Tribe, some of his most memorable times were as a Navajo Police officer in Lupton, Arizona. Ross Bigman was his partner.
Communities request services
"We went to different communities that requested our service," Adakai said. "They would ask us to stay for an Enemy Way ceremony, Yeibichei ceremony or a healing ceremony and watch over it all." Throughout his career, he never forgot his responsibility to share traditional teachings with the younger generation. While stationed in Window Rock in the 1960s, officer and coach Adakai started a Little League baseball club called the "Deputies."
Tom Arviso Jr. and Walt LaMare were two team members who were reminded in daily practices and games the values of responsibility and respect. Arviso became the publisher of the Navajo Times and LaMare a federal agent. "Mr. Adakai had a great impact on my life," said Arviso. "He was a remarkable coach and caring person. He has helped many people throughout his life and career. I remember my Little League days as the happiest times of my life."
Historical events that come to life on the pages of "Yel'nah'yah, One Who Has Walked It" are the armed takeover of tribal buildings on the Red Lake reservation in 1979; AIM's occupation of the Fairchild camera plant in Shiprock around 1975; as well as memorable meetings with celebrities like Johnny Cash and Rod Stewart, the sighting of U.S. President Dwight Eisenhower at a Gallup Intertribal Ceremonial and escorting U.S. Vice President Hubert Humphrey during a visit to Navajo when Raymond Nakai was tribal chairman.
Adakai noted that he wrote "Yel'nah'yah, One Who has Walked it" not to brag about himself, but to stop the stereotyping of Native people. "There are many, many Native people all over the country and up in Canada that have made names for themselves, but they are not acknowledged for the successful living they have achieved," he said.
"Yel'nah'yah, One Who Has Walked It" is one of three books Adakai has written. All three will be available soon on Amazon.com.
Second book
"Dineh' Kei Gei' Yah' Dail' Tei – We Speak In The Dineh' Language" is Adakai's second book. He warns that it's controversial in nature and will probably start a lot of arguments from linguists and educators who teach the language.
"Mostly Navajo language teaching is nothing more than teaching conversational Diné," he said. "What (teachers) are overlooking is the origination of the words. Students need to know how the words came about to know what they are talking about. "For example, when the cow was first seen by the Diné, the more they looked at it, they saw that its coat was very shiny, like it had been scraped," he said, "so they called it Bei' Guzzi' (something you scraped)."
Adakai said the origin of words is especially important in clanship introductions. "A lot of Diné children don't know what clan they are," he said. "Or, if they do, they don't know the true meaning."
Speaking about his paternal clan, he said that Naakai refers to one who walks, one who wanders. "When I introduce myself," he said, "I don't say Mexican Clan, I say Wandering Clan." He said elders are the best resource to learn about the origin of words.
"There are a lot of teachers on Navajo," he said, "ones who have walked it, like I did. If we don't tap information from them, it's going to be lost and it will be gone forever."
Third book
Adakai said every summer he and his wife, Corie, took off from Albuquerque and headed north in their mobile home to visit her family on Ojibwe tribal lands in North Dakota. When their great-grandson Jax, Toh' Lah' Chee' (Pure Red), was four years old, he wanted to go with them. "He cried and cried," said Adakai. After returning home from their travels, they promised Jax he could go with them the next summer.
"He was so excited, he told everyone he met, 'I am going to North Dakota,'" which Adakai said inspired the title of the book. During his travels, Jax learned about the Medea ceremonies of his great-grandmother's people and met his great-grandparents, cousins, grandma, grandpa, uncles and aunties for the first time.
"It was a learning process for him," said Adakai, who wrote the book to encourage parents and grandparents to travel with their children and grandchildren. "It will benefit the whole family," he stressed. Back at his desk in his home office where he has spent many hours writing the books, Adakai looks slowly around at pictures hanging on the walls.
His family surrounds him – his wife Corie, children Kurt, Jaylene and Kevin, his grandchildren Rayma, Frank, Raymond and Shundiin, and great-grandchildren Jax, Braydon and Gunner. "It's been a wonderful life," he said. "We have been blessed, my wife and I." Adakai is planning a book signing on Facebook when the books are published on Amazon.
Watch the Navajo Times calendar section for the date. When available, google Amazon.com and search by titles. 4
---