Barstow honors code talkers who lived in city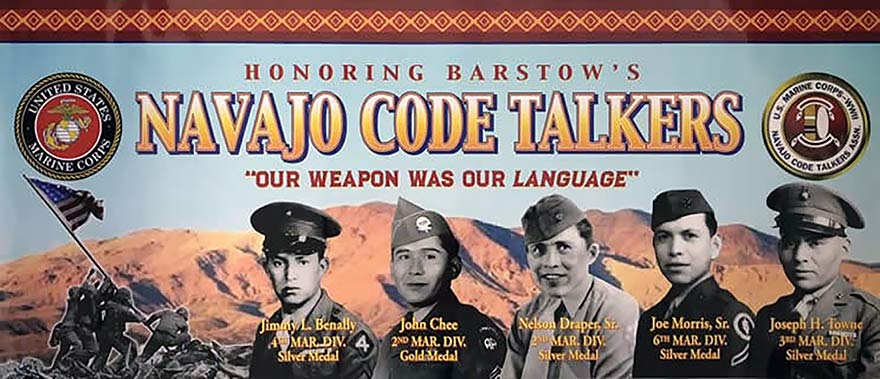 By Bill Donovan
Special to the Times
LOS ANGELES
For more than five decades, the small city of Barstow, California, was the home of the largest group of Navajo Code Talkers outside of the Navajo Reservation.
But few of the residents of the city was aware of them and it wasn't until a few months ago that city leaders decided to honor the Navajo families who had lived within their community for so long.
The five code talkers – Nelson Draper Sr., Jimmy Benally, John Chee, John Moore Sr. and Joseph Towne – all moved to Barstow after the end of World War II.
Christina Burke, Draper's daughter, said her father, along with Benally, Chee and Moore, came to the town shortly after being discharged because there were jobs available at the Marine base there. Benally, who came later, worked for the railroad.
All five raised families and many of their children stayed in the area so there was a fairly large contingent of Navajos living in the town, which at a population of 25,000 is just a little bigger than Gallup.
All five have passed on and residents are just now learning how fortunate the city was to have so many members of the famous Marine unit in their midst.
One of the city's council members, John Ramos, used about $5,000 of city funds under his control to have a mural of the five code talkers painted on the city's water tower.
And on Sunday, the entire city honored the five during its Veteran Day's ceremonies.
Burke said about 300 people showed up for the event and many were "amazed" when the children of the five code talkers got up and told them stories about the role their fathers played in winning the war.
---